October 4, 2022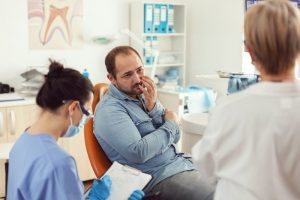 Sometimes, you can take every safety precaution in the book, yet a dental emergency may still occur. That's how life goes sometimes! And if you have ever experienced a mouth injury or severe tooth pain, then you know how unsettling the whole ordeal is, especially when it involves children. While some things are unavoidable, there are several practices you can follow to reduce your risk of encountering dental emergencies, according to your dentist in Flint.
Maintain a Regular Oral Hygiene Routine
One of the best ways to avoid a dental emergency is to practice proper at-home dental care. Brushing your teeth twice a day and flossing once a day are critical to your oral health. Bacteria can build up quickly if not removed properly, leading to decay, cavities, or even gum disease.
Watch Your Sugar Intake
Sticking to a nutritious diet not only benefits your general health but your oral health as well. By limiting your consumption of sugary foods and drinks (candy, ice cream, soda, fruit juice, etc.), you can prevent bacteria from producing harmful acids that damage your enamel. Instead, opt for fresh fruits or sugar-free alternatives to satisfy your sweet tooth!
Regularly Replace Your Toothbrush
If you can't remember the last time you swapped out your toothbrush, it may be time for a replacement. It should be switched out every 2-3 months, but ideally, it's a good idea to get a new one as soon as your toothbrush looks worn or splayed. That's because a worn-out toothbrush will not clean your teeth effectively, which can lead to severe dental problems down the road.
Take Note of Persistent Pain or Changes
Monitoring your teeth, gums, and mouth tissues will help you catch oral health issues before they become severe. If you experience any pain, no matter how mild, that's a definite sign that something is wrong, and you should see your dentist right away. If left untreated, it can lead to severe infection that can destroy your nerves. Also, be aware of any changes inside your mouth as they may require an examination to rule out concerning health problems.
Attend Routine Checkups
Seeing your dentist biannually for exams and cleanings is essential to keep your oral health in optimal condition. Your dentist uses specialized tools to remove plaque and tartar buildup that regular brushing cannot eliminate.
Plus, oral cancer screenings are performed at your appointment to catch any signs of infection before they progress. If you fail to visit your dentist, you increase your risk of cavities, decay, gum disease, and other severe health conditions.
It's no secret that dental emergencies can be a frightening experience. But by keeping your smile as healthy as can be, you can save yourself an urgent trip to your emergency dentist!
About the Author
Dr. Chitra Naik has provided quality dental care to her Flint patients for more than 25 years. She earned her dental doctorate at the University of Pennsylvania and attends monthly meetings of multiple organizations to stay current on developments in the dental field. Dr. Naik offers same-day emergency appointments and an Emergency Dental Visit (limited exam and X-rays) for $49. You can schedule a visit on her website, but if it's an emergency, call (810) 235-5422.
Comments Off

on 5 Ways to Avoid Dental Emergencies
No Comments
No comments yet.
RSS feed for comments on this post.
Sorry, the comment form is closed at this time.