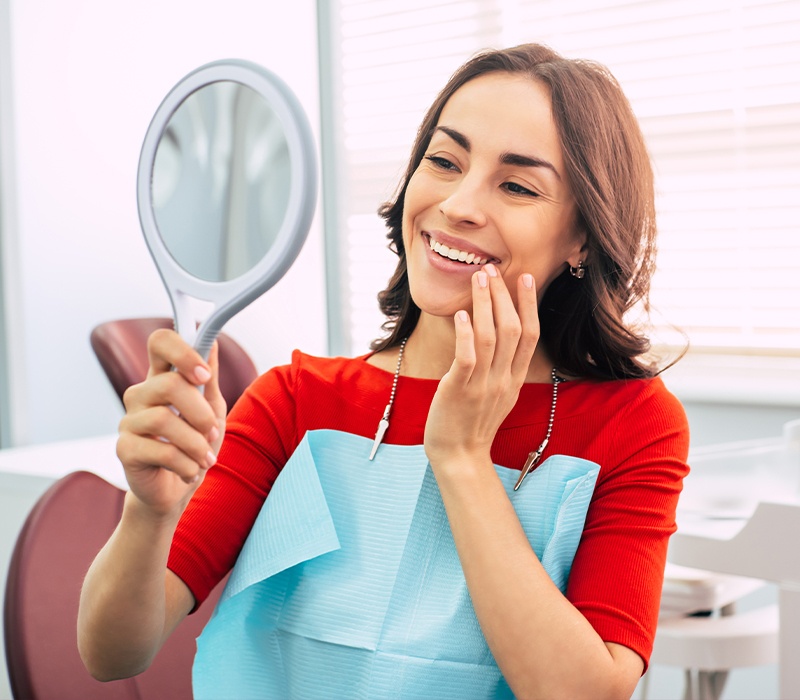 Porcelain Veneers – Flint, MI
Get a True Smile Transformation Fast!
Do you want a radiant, head-turning smile? Everyone dreams of having a perfect, movie star look. Unfortunately, many people are born with naturally darker enamel or have chipped and cracked teeth. If you aren't satisfied with your appearance, call Dr. Chitra P. Naik. Our dental team can work with you and use porcelain veneers in our Flint, MI dental office to create your ideal smile.
Why Choose Chitra P. Naik, DMD for Porcelain Veneers?
Personalized Care in a Clean Dental Office Environment
Expert and Friendly Dentist and Staff
All-Porcelain Materials Used for Better Durability and Esthetic
Our Porcelain Veneers
A porcelain veneer is a thin, tooth-shaped shell that is created to conceal a damaged or malformed tooth. Dr. Naik can place a porcelain veneer if your enamel is chipped or cracked, or simply for cosmetic enhancement. After a thorough examination to ensure there are no underlying problems that need to be addressed, Dr. Naik will take notes on the size, shape, and shade of your tooth. This will be sent to the licensed ceramist who will create your customized porcelain veneer.
You'll return to our Flint dental office after we receive your porcelain veneer so it can be placed. A porcelain veneer is permanently affixed to the front of a tooth with a composite resin, which will be shaded to match the color of your teeth. During this appointment, we'll perform any finishing touches necessary to treat your smile. You should be able to show off your new look, thanks to Dr. Naik and porcelain veneers.
Those who have a porcelain veneer are able to eat, drink, and smile like normal. This cosmetic dentistry solution is made to last, and the materials used to construct the veneer are stronger than the enamel of a real tooth. Additionally, porcelain veneers won't darken over time, and are generally resistant to stains that can sometimes discolor natural enamel. However, a porcelain veneer will not respond to teeth whitening either. If you are considering having professional teeth whitening from our Flint dental office, you'll want to speak to Dr. Naik prior to your porcelain veneer consultation. This way, the veneer can match your newly treated smile.
Please contact us today to schedule a porcelain veneers consultation at Chitra P. Naik, DMD, PLC. Dr. Naik works with patients from Flint, Ortonville, Fenton, Davison, Flushing, and other Michigan communities to enhance their smiles with porcelain veneers treatment. If this will be your first visit to our dental office, please take a moment to review our new patient page. We have a variety of cosmetic dentistry procedures available to create the perfect image for you.