Meet Your Flint Dental Team
Dr. Naik understands that running a dental office cannot be done alone. The fact is every dentist needs a team that is prepared to meet the needs of all members of the community. Our team members, including our hygienist, dental assistant, dental office manager and front desk administrator work very hard to make your visit a relaxing and productive one, regardless of the treatment you need. We hope you take the time to learn more about their stories of how they found Dr. Naik's dental office.
Tina, Office Manager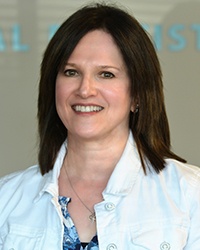 Tina's career in the dental field covers two full decades so far, and we're happy to now have her as a part of our oral healthcare family. Originally from Southgate, she attended college locally and is certified in CPR. Her favorite part of this job is easy to answer – the patients!
Tina is married with four children and one granddaughter. Outside of working hours, she enjoys spending quality time with her family (especially her grandchild), working out, walking, cooking, baking, and gardening. She also regularly volunteers at the summer concerts in Howell.
Kim, Patient Coordinator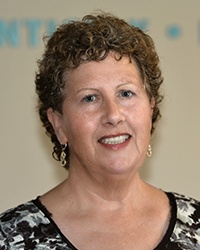 Kim has been working in the dental field for over a decade so far, and she has a genuine passion for helping the public through her position. Originally from the Southgate area, she is certified in CPR and has been an important fixture of Dr. Naik's dental office for a handful of years so far – with hopefully many more to come!
Outside of work, Kim is a widow with three adult children and three grandchildren. Her hobbies include gardening, bowling, and being very crafty.
Lisa, Dental Hygienist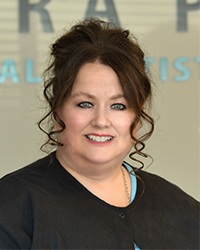 Lisa attended the Mott College Dental program for her education and is also certified in CPR. Today, her career in the oral healthcare field covers over 20 years – almost half of which were spent right here! She loves meeting new people and forming strong relationships through her work. Helping others not only learn more about their oral health, but also take better care of their smiles is so rewarding.
Lisa grew up in Flushing and now lives in Flint Township. She has one son who is she is incredibly proud of, as well as six siblings and a mom who currently lives in Arizona. When she isn't busy at the dental office, her favorite hobby is going to antique flea markets – she has lots of different collections of vintage items, including wedding cake toppers going all the way back to the 1900's, Halloween decorations, and photos. She also enjoys reading, listening to music, spending quality time with loved ones, and repurposing old watches into bracelets and necklaces.
Joanna, Dental Assistant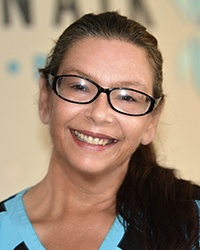 Joanna studied at Mott Community College and has been working in the dental field for nearly 30 years! More than anything else, she really enjoys helping Dr. Naik's patients smile brighter and feel more confident in everyday life.
A Flint native, Joanna has twin sons who are grown, as well as four grandchildren. When she isn't busy at the dental office, her favorite hobbies include swimming, watching movies, going for long rides on her Harley, and taking care of her grandkids.