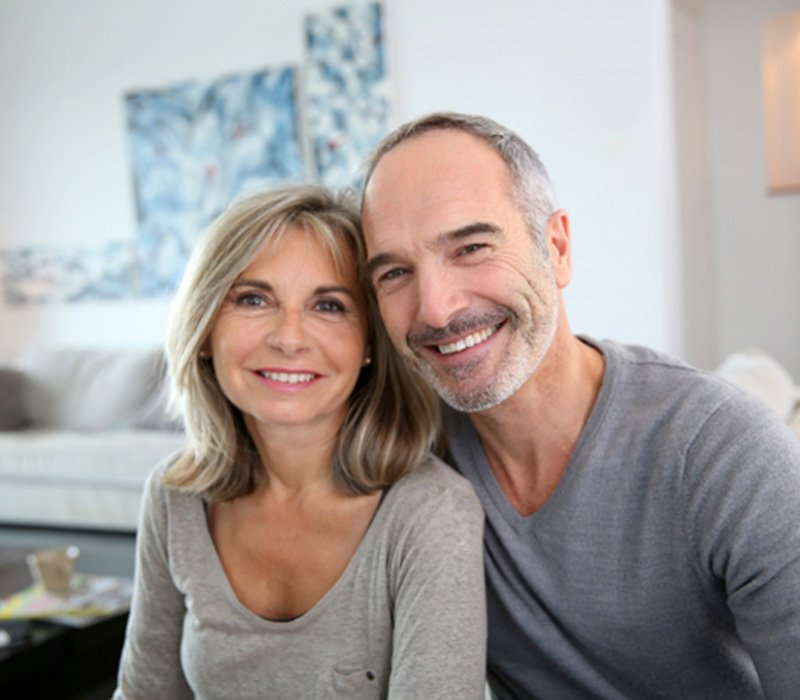 Dental Implants – Flint, MI
Take Your Tooth Replacement to the Next Level
You aren't only losing a piece of your smile when a tooth falls out. The bone that holds your teeth in place will also begin to shrink in size now that nothing is supporting it. Neighboring teeth will begin to shift towards the empty space to compensate, which can negatively affect your bite and lead to chronic teeth grinding later. If you want to address both of these issues simultaneously, look no further; Dr. Naik can help you replace your teeth with dental implants in Flint, MI. Call her dental office today!
Why Choose Chitra P. Naik, DMD for Dental Implants?
Customized Implant-Retained Restorations
Clean, Friendly and Accommodating Dental Office Environment
Professional Dentist and Team Members
Benefits of Dental Implants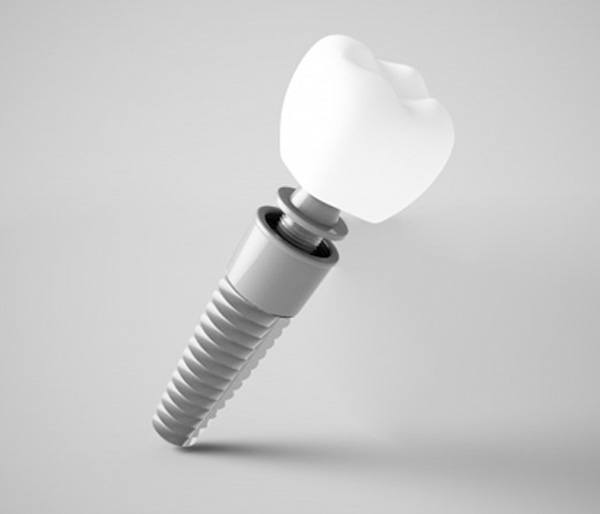 Dental implants are not like your typical tooth replacement. Instead of simply resting on top of your existing gum tissue, implants work to replace the tooth all the way down to the root and not just the crown. Once the titanium post integrates with your existing bone, Dr. Naik can restore the implant with a restoration. Implants simulate natural teeth so well, you can eat all the foods you used to enjoy without worry. Whether it be your favorite fruit or a tender cut of steak, implants will make you feel confident to chew and smile.
Another notable benefit of implants is their durability, longevity and predictability. Studies have shown implants to have success rates as high as 98 percent after a 10-year period and last as long as 25 years to a lifetime when properly maintained. It's the only option closest to the real thing and capable of going several decades without needing replacement.
Indications for Dental Implants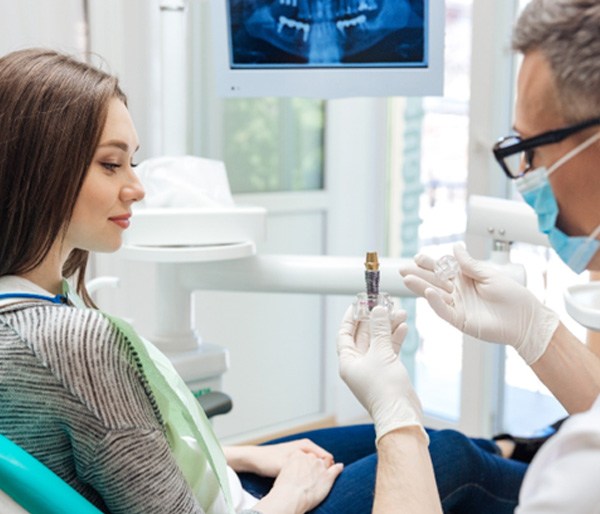 Keep in mind that implants are not exclusively for replacing individual teeth. It doesn't matter if you're missing one tooth, a few teeth or an entire arch; dental implants can help you do it all!
Missing Single Tooth
If you're missing one tooth, a single implant, crown and abutment will be used. The abutment acts as a screw between the crown and implant, creating a secure foundation on top of the existing bone integration. The crown is made entirely from porcelain to provide the most aesthetically pleasing replacement tooth possible.
Missing Multiple Teeth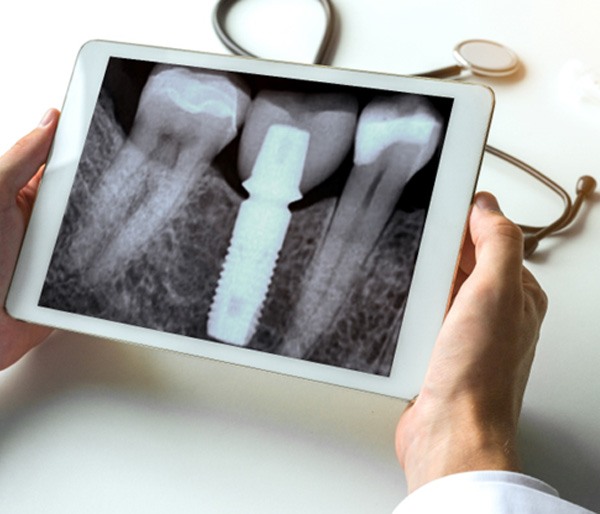 If you need to replace multiple teeth, Dr. Naik can use dental implants to anchor a bridge. A fixed bridge is a set of prosthetic teeth, and is used to complete a smile which has up to three missing teeth in a row. It's normally attached to existing teeth, but if there aren't viable teeth strong enough to maintain the position of a bridge, Dr. Naik may be able to use dental implants to substitute.
Missing All Teeth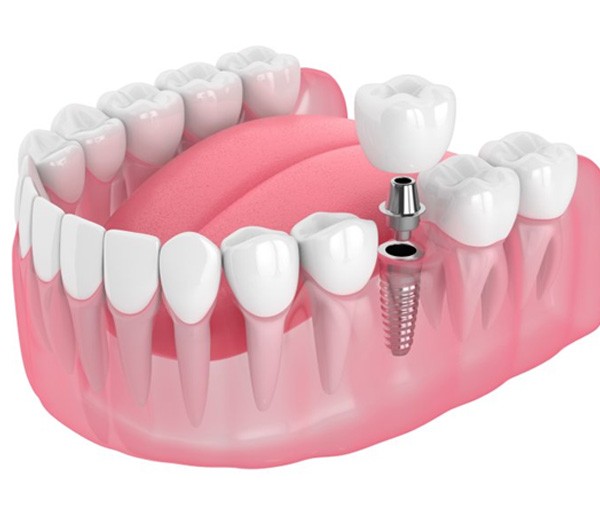 If you have a denture you'd like to give a more secure fit, four to six implants can be placed and your denture can be customized to fit on top of them. If the denture needs replacement, Dr. Naik can create a restoration that fits your mouth comfortably. This is a great option for those tired of dealing with a denture that shifts and slides while in use.
Partnered With Flint's Best Specialists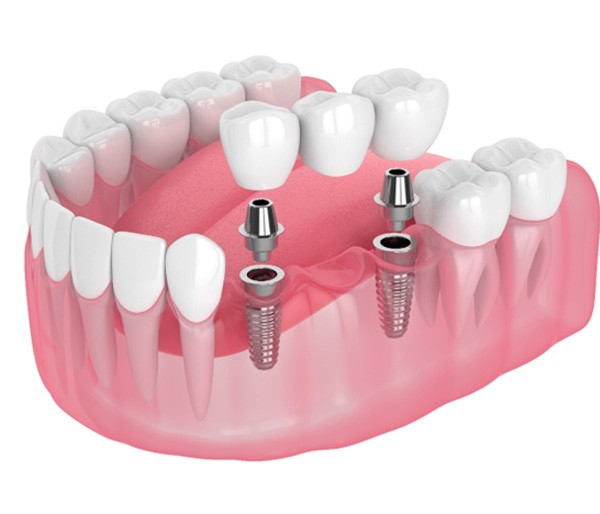 When it's time to have your dental implants placed, we'll partner you with one of our trusted dental implant specialists. These oral surgeons have been providing treatments for our dental office for years and we know that once you meet them, you'll feel confident that you're getting the expertise you need for dental implants. We do everything possible to make sure that all of your needs are met and that your implant placement is nothing less than safe and successful.
Understanding the Cost of Dental Implants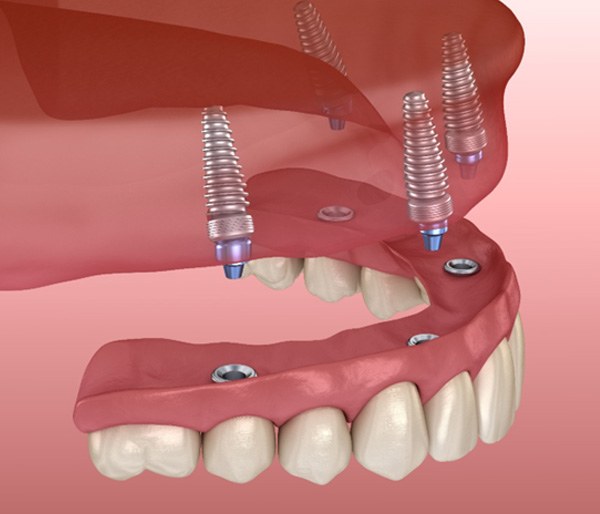 Dental implants are a highly customizable treatment, which means each patient is going to have their own set of needs. When determining the cost, you'll need to consider several options before a total cost can be provided, including:
The number of implants being placed
The cost of placement
The type of restorations used
Preparatory treatments necessary to place implants (sinus lifts, bone grafts, etc.)
Remember, dental implants are considered a long-term investment because they are cheaper than other options and designed to last for many decades.
Please call us today if you would like to schedule a dental implant restoration. Dr. Naik uses dental implant restoration to complete the smile of patients from Flint, Ortonville, Davison, Fenton, Flushing, and the surrounding Michigan communities. If this will be your first visit to Dr. Naik's dental office, take a moment to briefly review the helpful information on our new patients page. Check out our full list of restorative services if you would like to learn how Dr. Naik can help repair your teeth.
Dental Implant Frequently Asked Questions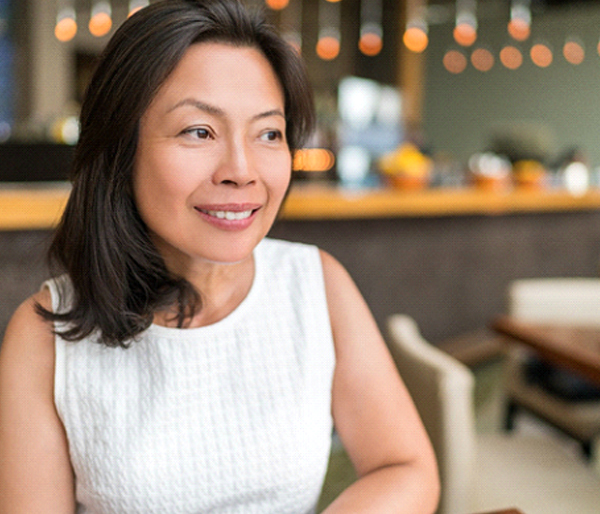 Do you still have questions about getting dental implants in Flint? Making the decision to replace your missing teeth and improve your day-to-day quality of life is a big deal. We want each of our patients to feel confident and comfortable in their decision to fill gaps in their smile with this modern restorative procedure. That's why we've answered some common questions we get from our patients below, for your convenience.
Will dental implant placement hurt?
During your dental implant placement surgery, your mouth will be completely numbed using local anesthesia. This way, you won't have to feel a thing. However, once the anesthesia wears off, you'll most likely feel some slight discomfort and soreness. The severity of your discomfort often depends on how many implants you've had placed.
Fortunately, any pain should begin to subside within a week and can easily be managed with over-the-counter medication such as ibuprofen. If your surgery was more extensive, you may be prescribed pain medication. You may also notice some swelling for a day or two following your surgery.
What qualities make a good candidate for dental implants?
Not every patient that we see is a great candidate for dental implants right off the bat. Some patients need preparatory procedures that help improve their oral health, so their dental implants have a strong and sturdy foundation to be placed in, which is why the procedure boasts a 95 percent success rate. Some qualities that make a great candidate include:
Have healthy gums
Are committed to their oral hygiene routine
Don't have an autoimmune disease
Don't excessively smoke or drink alcohol
Even if you don't possess all of these qualities at the moment, that doesn't mean that you can't get dental implants. Be sure to schedule a consultation with Dr. Naik to determine how you can become a great candidate for the procedure.
How long does the process take?
Every patient's dental implant timeline varies depending on a variety of factors, including:
How many implants you need placed
What type of restorations you need
Whether you need preparatory procedures
Where your missing teeth are located
During your initial consultation, Dr. Naik will develop a custom-tailored timeline for you, so you know exactly what to expect from the process. Typically, it takes place over the course of several months due to necessary healing periods that involve the natural fusion of your implants to your jawbone, providing your restoration with added strength and durability.
Are dental implants approved by the FDA?
Yes, the U.S. Food & Drug Administration (FDA) first approved the use of dental implants in 1982. Their approval was granted based on the results of countless clinical studies and research that was conducted, proving that they were a safe and effective long-term treatment solution to tooth loss.
Will my dental implants look like my natural teeth?
Dental implants are the closest solution to getting your home-grown pearly whites back. They're custom-crafted to resemble your natural teeth and are virtually indistinguishable. The restorations are typically crafted from high-quality materials like ceramic, composite resin, and porcelain, that are able to mimic the look of natural enamel.