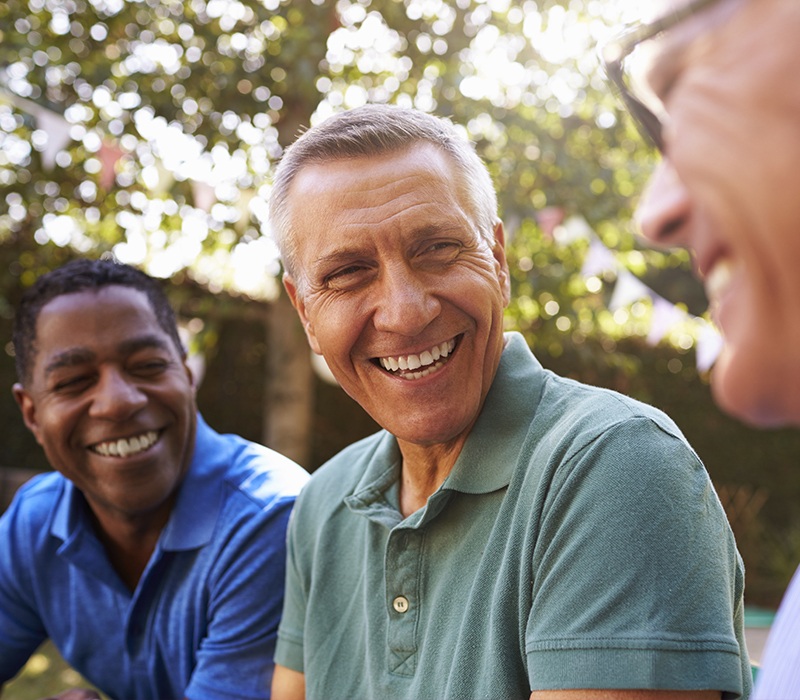 Dentures & Partial Dentures – Flint, MI
Fast and Affordable Solutions for Extensive Tooth Loss
If you are affected by tooth loss, it's important to have a reliable dentist help you during your time of need. Dr. Chitra P. Naik offers her compassion and quality restorative dentistry care to assist patients. Whether your smile was damaged by gum disease or an accident, our friendly Flint team is ready to help. We offer a variety of ways to replace teeth, including realistic-looking dentures and partials.
Why Choose Chitra P. Naik, DMD for Dentures & Partial Dentures?
Accepts State-Funded Insurance Plans
Experts in Safe Extractions and Natural Restorations
Detailed Treatment Planning for Every Patient
What is a Denture?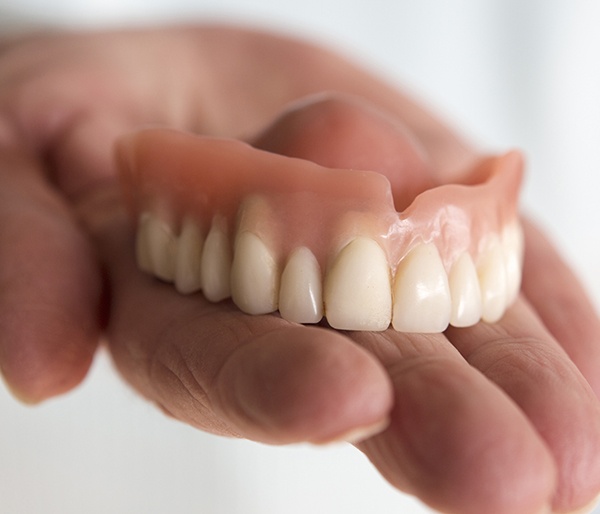 A denture is a dental prosthetic created to replace all of the teeth along the upper or lower gums, and a set of dentures takes the place of every tooth in a smile. For patients who are only missing one to three teeth in a row, Dr. Naik can fit a partial denture to revitalize oral health.
A partial denture is a smaller row of artificial teeth, and stays in place by clipping to existing teeth on either side of the gap formed by the missing pearly whites. Dentures maintain their position with suction, and sometimes a little denture cream. These replacements are cleaned with a toothbrush and toothpaste like normal teeth, although Dr. Naik may recommend a particular type of toothpaste for your needs. You'll soak your dentures or partial denture overnight in a glass of water, and can even add a denture tablet to the cup for an added cleanse.
With today's dental technology, it's possible to customize dentures and partial dentures to the mouths of each patient. You'll work with Dr. Naik as she plans your treatment, performs any necessary extractions, and measures your jaw and gums carefully. A licensed dental ceramist will craft your restoration from these notes for your beautiful smile.
Wearing a denture or partial denture will allow you to enjoy your favorite foods once more, and can even give you a more youthful appearance. Teeth provide a natural barrier which prevents cheeks from sinking inward and sagging, so dentures or partials can prevent this from happening. Once you've worked with our Flint practice to obtain well-fitting dentures or a partial, you'll feel confident in knowing that you have a refreshed image and bite.
Please call us today if you would like to schedule an appointment at Chitra P. Naik, DMD, PLC. Dr. Naik sees dentures and partials patients from Flint, Flushing, Fenton, Davison, Ortonville, and the nearby Michigan neighborhoods. If this will be your first examination at Dr. Naik's practice, please read the information on our new patients page. We encourage you to explore every restorative dentistry treatment offered by our team. You can see the full list here.