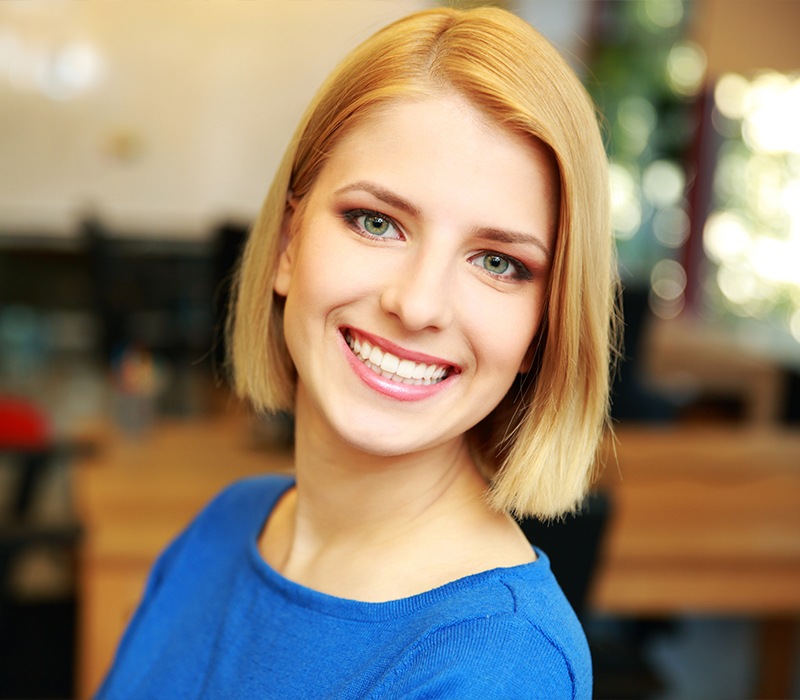 Cosmetic Dentistry – Flint, MI
Achieve the Beautiful Smile of Your Dreams!
It's always a good thing to have positive oral health, but getting a clean bill of health from the dentist isn't enough for many patients who have imperfections in their smile. At Dr. Chitra P. Naik's dental office, you can start thinking of the ways to get your smile looking exactly the way you want it to and maintain a healthy mouth while you do it! To learn more about her detailed, smile transforming dental treatments, give her dental office a call for cosmetic dentistry in Flint, MI!
Why Choose Chitra P. Naik, DMD for Cosmetic Dentistry?
In-Office and Take-Home Whitening Available
Restorations Made with No Metal Materials
Intraoral Cameras for Detailed Treatment Planning
Porcelain Veneers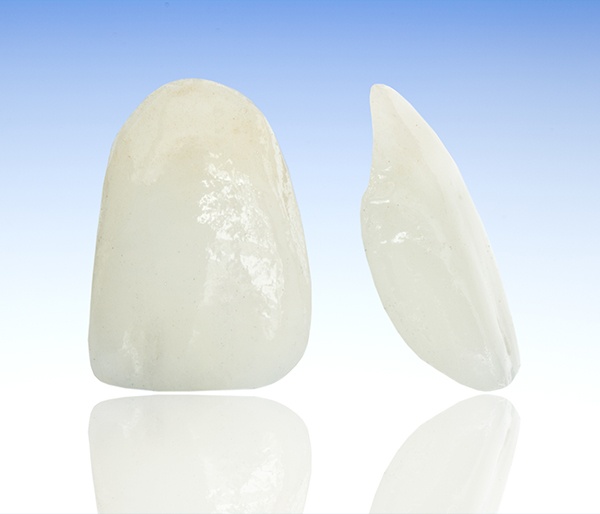 Often considered the most comprehensive cosmetic dental treatment available, porcelain veneers are ideal for hiding numerous cosmetic perfections in your smile at a given time, Whether it's chips, cracks, discoloration, gaps or even slightly rotated teeth, porcelain veneers are the perfect all-in-one solution. Each veneer is carefully customized to fit over your individual teeth and color-matched, ensuring that your smile looks uniform throughout. All of our veneers are made from high-quality ceramics.
Metal-Free Dental Restorations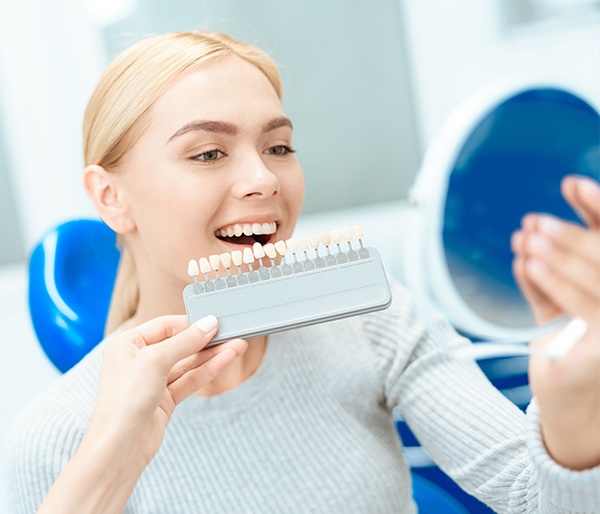 Restoring damaged teeth is important, but making sure you like the way your smile looks matters too. Dr. Naik takes all the necessary steps to ensure that your next restoration, including cosmetic additions, look and feel natural. When it comes to cosmetics, we go above and beyond to use metal-free materials, regardless of the treatment you need performed. Our dental office uses Filtek™ brands for its restorations, a very durable and reliable material.
Cosmetic Dental Bonding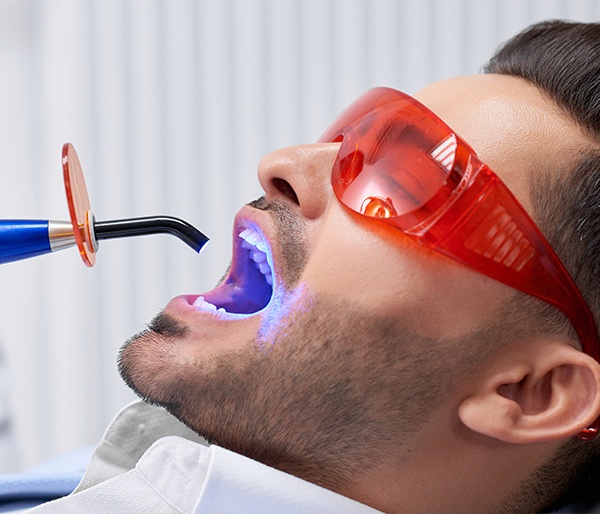 If you only have minor imperfections in your smile and you'd prefer to save money on cosmetic treatments, cosmetic bonding is likely the solution for you. Instead of relying on ceramic materials like porcelain veneers, cosmetic bonding utilizes composite resin to cover discoloration, hide chips and cracks in teeth, and even fill gaps! Once applied, we can easily mold and shape the material until it reaches your desired look. Once cured, your new tooth should look more uniform and clean of imperfections!
Teeth Whitening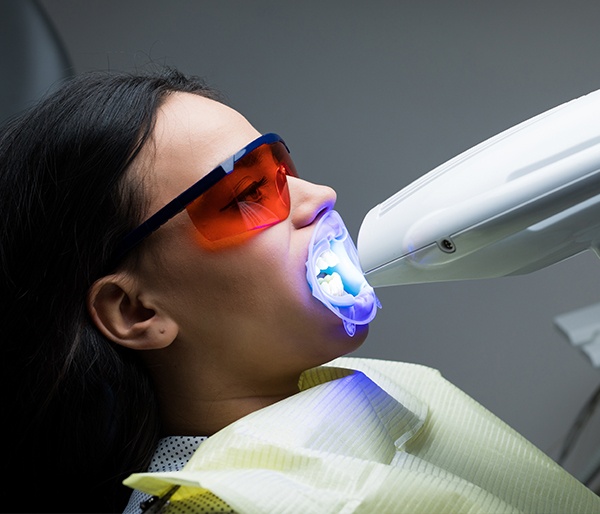 Does your smile look heavily stained? Wish you could have a white, bright smile and not a dull, yellow one? Our dental office makes it easy to whiten teeth on your own terms! Those who would prefer to whiten teeth at our dental office can do so through Zoom! Whitening, an advanced treatment that make smiles whiter in just under an hour! Alternatively, those who'd prefer to whiten teeth at home can make use of our take-home whitening kits, which allow for whitening daily over two weeks!
Cosmetic Dentistry FAQs
If you have one or more details about your smile that you would like to change, Dr. Naik and our team are ready to help. Before you schedule your consultation with us, however, it is understandable if you have questions about what you can expect during the journey that lies ahead. That is why we have put together this brief list of FAQs. If you do not see the answer to your specific question, or you would like more explanation on anything you read here, please reach out to us directly.
Does Insurance Cover Cosmetic Dentistry?
In most cases, insurance does not cover cosmetic dentistry. However, there may be some exceptions if a cosmetic treatment is also considered necessary for your oral health. For example, insurance is likely to help you pay for metal-free restorations if you have a damaged tooth that requires protection. If your policy does not cover a treatment that you would like to undergo, ask us how you can apply for financing.
How Can I Maintain My Results?
The details of maintaining the results of your cosmetic treatment will depend on which procedure you undergo. However, there are a few general principles that can help you keep your smile looking as good as possible:
Stick to an excellent oral hygiene routine
Visit us for routine checkups and cleanings at least twice a year
Avoiding biting down on hard objects that might break your teeth or your restorations
Avoid bad habits, such as smoking or consuming too much sugar
Limit your intake of staining foods and beverages, such as coffee and dark berries
Who Is a Good Candidate for Cosmetic Dentistry?
Almost anyone who would like to change the appearance of their teeth is a candidate for cosmetic dentistry, but the candidacy requirements vary from procedure to procedure. For example, teeth whitening might not be right for you if you have restorations on any of your front teeth (because restorations do not respond to whitening agents). During your consultation, Dr. Naik will help you determine which specific treatments are a fit for your circumstances and treatment goals.
Is Cosmetic Dentistry Painful?
Our team makes every effort to ensure patient comfort during cosmetic treatments. However, some procedures are prone to cause temporary discomfort. For example, you might experience some soreness after a crown is placed, and teeth whitening may make your teeth extra sensitive for a few days. Any pain is usually mild and relatively easy to manage.