February 15, 2015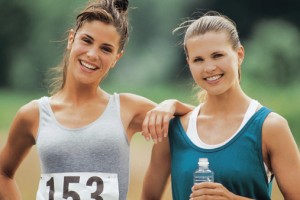 While your teeth may be the last things on your mind when you gear up to hit the gym, a recent study has uncovered a vital connection between oral health and strenuous exercise. At the Flint, MI dental practice of Dr. Chitra P. Naik, Dr. Naik and her team are committed to helping our patients achieve and maintain optimal oral health, and today we'd like to talk about how exercising – particularly running – impacts the health of your teeth and gums.
Why Do Athletes Have More Cavities?
A 2014 study published in the Scandinavian Journal of Medicine and Science in Sports found that athletes –especially those who engaged in distance running on a regular basis – had a higher incidence of enamel erosion and tooth decay than their peers who were non-athletic. This was found to be directly related to pH levels in their mouths; a decreased pH level (one that falls below 5.5) has been linked to a higher risk for cavities and gum disease. It is believed that the lower pH levels were caused by a diet high in carbohydrates, including sports drinks and energy bars frequently consumed before and during workouts.
In addition, breathing through the mouth – a habit of many runners – decreases saliva levels. Saliva is necessary for good oral health; it actively protects the enamel from acidic bacteria. While the study certainly offers insight into why athletes tend to suffer from more tooth decay, the results should not be used to deter anyone from pursuing a healthy and active lifestyle. They simply further support the belief that runners and other athletes should visit the dentist often for routine checkups and cleanings to ensure continued oral health.
Schedule Your Next Visit Today
If you or someone in your family exercises regularly, it's important to remember that your teeth and gums require special care to stay healthy. Contact us today to schedule your consultation with Dr. Naik, and learn more about how our general and preventive dentistry solutions can help you avoid cavities, periodontal disease, and more. Our family-friendly dental practice in Flint, MI warmly welcomes patients from throughout the surrounding communities in Flushing, Davison, Fenton, Ortonville, and beyond. We look forward to seeing your smile!
No Comments »
No comments yet.
RSS feed for comments on this post.
Leave a comment