August 22, 2021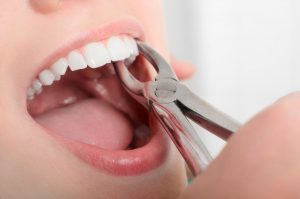 One of the last things a dentist will recommend is pulling a tooth. That's because dental preservation is always a priority. However, there are some situations that warrant having a tooth pulled. As you continue reading, you'll discover the benefits of tooth extraction.
The Upside of Tooth Extraction
If your dentist recommends pulling your tooth, you can rest assured that it's beneficial to your oral and overall health. Here are some specific reasons that an extraction may be suggested:
To stop infection – If you have a severe tooth infection, it won't go away on its own. In fact, it can eventually travel to other parts of your body if not addressed. Having an infected tooth pulled is a way to prevent this from happening.
To relieve pain – An impacted or badly decayed tooth can cause intense pain. By having the tooth removed, you can experience a normal and pain-free life.
To correct overcrowding – Often, a partially or fully erupted wisdom tooth (also referred to as the third molar) can cause overcrowding. It can make the other teeth shift and potentially leave them exposed to bacteria growth at the root level. Removing the problematic tooth can provide the relief you need.
By having a tooth extracted early enough, you can avoid the more complex issues associated with the above.
How Tooth Extractions Normally Work
The procedure typically starts with your dentist administering local anesthesia so that you can have a painless experience. After numbing the treatment site, your dentist will free the tooth from the periodontal ligament with a tool called an elevator.
If you have an impacted tooth, it will increase the complexity of the procedure, as it requires an incision into the gum tissue. After the tooth is removed, the socket is stitched, and a protective gauze is placed to assist in forming a blood clot.
How to Promote Post-Surgery Healing
Don't be alarmed if you experience some mild discomfort after your surgery, as it's completely normal. You can get relief and reduce the swelling by taking ibuprofen (Advil, Aleve or Motrin). You'll also want to avoid any tobacco usage, as it releases toxins that can cause dry mouth and a painful infection in the socket.
Additionally, you'll want to follow a soft food diet for the first 4-7 days after your surgery. Some acceptable foods are soup, yogurt, pudding and similar soft choices. Until you've sufficiently healed, you should avoid chewing on the side of your face where the tooth was extracted.
If your dentist is recommending you have a tooth pulled, it's best to take heed and follow through. In doing so, you can maintain the best oral health possible and save money by preventing the need for more complex dental care in the future.
About the Author
Dr. Chitra P. Naik earned her dental degree from the Pennsylvania School of Dental Medicine, and she has been providing top-notch dental care for nearly 30 years. Not one to rest on her laurels, she continues to attend monthly meetings at the Genesee District Dental Society and Michigan Dental Association Conventions to stay abreast of the latest changes in dentistry. Dr. Naik performs tooth extractions at her private practice, and she can be reached for more information or to schedule a visit through her website.
Comments Off

on Here's Why Your Dentist May Suggest a Tooth Extraction
No Comments
No comments yet.
RSS feed for comments on this post.
Sorry, the comment form is closed at this time.