March 17, 2014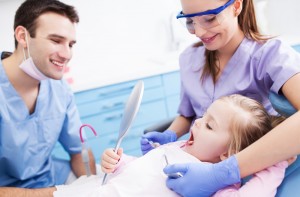 Is there anything more precious than your child's smile? Keeping your little one's teeth and gums clean and healthy now ensures a lifetime of dental wellness and beautiful smiles. At our general dentistry office in Flint, MI, Dr. Chitra P. Naik and her team provide state-of-the-art children's dental care with a gentle touch; you and your children will always be welcomed to our practice with a friendly smile.
The Importance of Children's Dentistry
Early general and preventive dentistry are among the key building blocks of lifelong oral health. When your children visit our warm, family-friendly office, we'll do everything we can to make them feel comfortable and secure. Rather than dreading their biannual visits to the dentist, they'll begin to find that these regular scheduled appointments are something to look forward to! Comprehensive exams and cleanings leave their smiles looking and feeling better than ever, and patient education ensures that the care you provide at home maintains these results.
Should Dr. Naik and her team find any reason for concern, such as tooth decay or developmental problems, we'll talk with you, the parents, about all available options for treatment. To prevent cavities before they even start, Dr. Naik may recommend strengthening fluoride treatments and/or dental sealants. If your son or daughter participates in sports, ask us about how a customized athletic mouthguard can protect his or her teeth, gums, lips, and jaws during gameplay. Everything we do is for the betterment of your child's oral health and overall wellness.
Dental Care for Your Kids' Developing Smiles
Whether your child is ready for his or her first trip to the dentist, or it's time for a routine check-up and cleaning, Dr. Naik is here to help. Contact our office in Flint, MI today to reserve your appointment, and see what an incredible difference our unique, gentle approach to children's dentistry can make in your child's life. Our practice also happily welcomes families from throughout the surrounding areas of Fenton, Davison, Ortonville, Flushing, and nearby Michigan areas. We can't wait to take care of your families littlest smiles!
No Comments »
No comments yet.
RSS feed for comments on this post.
Leave a comment