April 9, 2020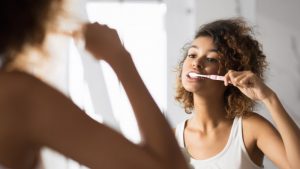 The COVID-19 pandemic is a scary thing. Now, more than ever, it's important to practice excellent hygiene habits. You should take steps to ensure that both you and your family stay safe and healthy. While many people don't think of their toothbrush as a way of spreading or catching the virus, it is covered in bacteria daily. If you live with others, this is especially true. Practicing safe oral hygiene habits will keep everyone living their best lives.
We're All in This Together
If you live with others, it's more likely that your germs are being spread around. It's crucial to take measures to keep everyone in the household safe. This is especially true if you live with people at risk, such as the elderly and those with respiratory conditions.
To keep everyone safe, you may consider:
Making sure that everyone washes their hands before brushing their teeth
Taking turns brushing your teeth rather than having multiple people brush at the same time
Not sharing toothbrushes or other appliances, like Waterpiks
Keeping all toothbrushes in separate holders, far away from each other.
Disinfecting all oral appliances, such as retainers and dentures
By adding these steps and suggestions to your routine, you're helping to ensure that you and your family stay as safe as possible during this global crisis.
Safe Brushing Habits
Your toothbrush has the potential to be loaded with germs. Each time you touch it, you're passing bacteria from your hand to the toothbrush handle. If you've been exposed to the virus and don't realize it, you could possibly be spreading it to anyone who comes in contact with your toothbrush.
To keep yourself safe, you should wash your hands before brushing your teeth. You should also rinse your toothbrush with hot water after you've brushed. The heat will kill some of the bacteria remaining in your toothbrush. You should make sure that your toothbrush air dries vertically in a holder that is spaced away from other toothbrushes.
Periodically disinfecting your toothbrush can be advantageous as well. If you use a manual toothbrush, you can boil it for five minutes or run it through a complete dishwasher cycle. If you use an electric toothbrush, disinfect the handle with Lysol wipes frequently.
By making these small changes to your household's oral hygiene routine, you're helping to keep both you and your community safe. From safer brushing habits to disinfecting your oral hygiene appliances, these tips are quick and easy to implement. You can feel confident that you're doing everything you can to help flatten the curve.
About the Author
Dr. Chitra Naik takes pride in helping her patients live their best lives. She is a graduate of the Pennsylvania School of Dental Medicine and is committed to continuing her education and providing the best dentistry possible. She understands that the pandemic is a stressful time and wants her patients to stay safe while maintaining their oral hygiene. If you'd like to learn more about how to practice safe oral hygiene at home, she and her team are here to help via email or the phone at (810) 275-0806.
Comments Off

on Staying Safe at Home: Oral Hygiene Habits for Avoiding COVID-19
No Comments
No comments yet.
RSS feed for comments on this post.
Sorry, the comment form is closed at this time.