August 14, 2014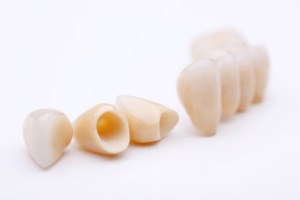 Missing teeth present a variety of problems from the moment they are lost or extracted. It immediately becomes more difficult to chew food and to speak clearly. If the teeth missing are visible when you smile, you may feel self-conscious about your appearance in public and in photographs. At the Flint, MI office of Dr. Chitra P. Naik, patients with missing teeth are invited to rebuild their smiles and their dentition with a full scope of restorative dentistry solutions, including crown and bridge treatment.
Benefits of Crown and Bridge Treatment
A bridge is a dental prosthetic that replaces between one to three missing teeth in a row. The bridge is permanently affixed to the two teeth that are situated on either side of the gap using custom crowns. These crowns are meticulously crafted of only the highest-grade dental materials to ensure a natural, seamless appearance and long-lasting stability. The replacement teeth are also customized to match the color, size, and shape of your natural dentition. With custom-crafted crown and bridge restorations from Dr. Naik, no one will ever have to know that you are missing teeth at all.
Another form of crown and bridge treatment utilizes the proven efficacy of dental implants. These titanium posts are implanted into the bone of your jaw for maximum stability, and the crown and bridge restoration is attached directly to them. Dr. Naik can talk with you about the additional uses for dental implants at your consultation, as well as help you choose the restorative dentistry option that best suits your lifestyle.
Explore the Possibilities of Restorative Dentistry
Whether you are missing one or more teeth and you'd like to schedule your crown and bridge consultation or you'd simply like to find out more about our extensive range of restorative procedures, we're here to help. Contact our office in Flint, MI today and speak to our caring, knowledgeable staff about how crown and bridge treatment can benefit you. Our warm, welcoming dental practice serves families from Flint, Davison, Ortonville, Flushing, Fenton, and from throughout Michigan. We look forward to helping you enjoy the full benefits of a complete smile.
No Comments »
No comments yet.
RSS feed for comments on this post.
Leave a comment