December 23, 2015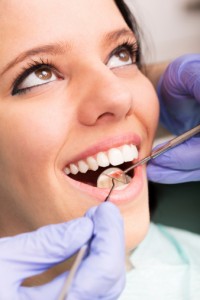 As a Flint, MI, dentist who places a premium on restoring smiles, Dr. Naik often recommends dental crowns, also called dental caps, for patients who have a tooth that is severely damaged. Whether for an adult or a child, a dental crown can be used to:
Protect a tooth with a cavity too large to be saved by only a filling
Preserve the integrity of a tooth that is threatened by one or more deep cracks
Restore a tooth that is fractured or unusually worn down
Hold a dental bridge in position
Complete a dental implant procedure
Rebuild a tooth that is misshaped
Dr. Naik will be able to determine if you are best served by having a dental crown. In most cases, she is able to create an all-porcelain crown that precisely matches the existing color of your smile.

The Crown Procedure with the Dentist Flint, MI, Trusts
Receiving a dental crown requires two appointments that are usually scheduled two weeks apart. At the first appointment, Dr. Naik prepares the tooth that will be getting a crown and at the second visit, we'll permanently set the crown on your tooth.
The process begins with x-rays of your tooth. Then, Dr. Naik will administer a local anesthetic to numb the tooth and surrounding tissue. In order for your new crown to fit properly, she must reduce the size of your tooth on the biting surface and along the sides. If the tooth requires drilling to remove decay, then she may also need to install filling material to help your tooth support the crown.
Then, we'll take an impression of the tooth and opposing tooth. This impression allows our dental lab to create a crown that perfectly mimics the grooves of your tooth and feels completely comfortable when you bite together. At the conclusion of this appointment, an acrylic crown will placed over your prepared tooth. Because this is held in place with temporary cement, we recommend chewing on the other side of your mouth as much as possible and not flossing on either side of this tooth while the temporary crown is there.
Once we receive your permanent crown from the dental lab, you'll come back to your 48532 dentist where Dr. Naik will double check the fit and color. She'll remove the temporary crown and cement your new crown in place.
Call Our Office Today
To maintain your whole and healthy smile with a dental crown, contact the dentist Flint, MI, turns to for general, restorative and cosmetic dentistry. Dr. Naik and her staff serve everyone in Flint, MI as well as Burton, Flushing, Mt. Morris, Swartz Creek, Goodrich and beyond.
No Comments »
No comments yet.
RSS feed for comments on this post.
Leave a comment