February 5, 2019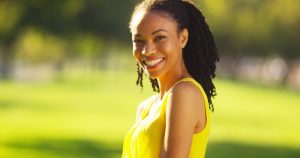 You may have noticed faint but unsightly white spots on your teeth since you were younger, but you've never put much thought into what they were. Now that you're older, you wonder what you could do to fix your smile so you're photo-ready. Luckily, your cosmetic dentist can offer you dental fluorosis treatments that can help touch-up and perfect your smile.
What are the White Spots on My Teeth?
There are a couple of common causes of those noticeable white spots on your teeth: dental fluorosis and enamel hypoplasia.
If the white spots on your teeth are caused by dental fluorosis, it's more than likely that you've noticed them since you were a child. There's usually no need to be worried because they developed before your teeth came through the gums. It is caused by consuming too much fluoride when you're younger, whether that's through drinking water or brushing with fluoridated toothpaste too early.
Enamel hypoplasia occurs when your enamel doesn't form properly. It happens during childhood when your teeth are still developing and can have an impact on the health of your teeth. With enamel hypoplasia, you can be more susceptible to tooth decay.
Lastly, it is important to note that the spots on your teeth could be due to eating excess amounts of acidic or sugary foods as well as poor dental hygiene.
What are My Treatment Options?
Having spot-free teeth can give you the confidence you need to smile without covering your mouth again. There are a few options that your dentist can help with to provide you with the ear-to-ear grin you deserve:
Porcelain veneers help cover any discoloration.
Teeth whitening and bleaching can help reduce the visibility of white spots.
Topical fluoride can be applied by your dentist to treat your enamel hypoplasia.
With so many options, it's a good idea to consult your cosmetic dentist on what would be best for you and to voice any concerns you have about your tooth discoloration.
What Preventive Steps Can I Take?
To prevent tooth decay and infections, it's always important to upkeep your regular dental routine of brushing twice a day and flossing. Here are some things you can do to stop any more white spots from developing in your teeth:
Using fluoride-free water or breastfeeding can help reduce your fluoride intake.
Moderating use of fluoride toothpaste is important. A small rice-grain size of toothpaste is enough to brush with.
Reducing intake of sugary and acidic foods can damage tooth enamel. If you do drink or eat sugary and acidic foods, it's good to wash them down with water.
Visit your dentist regularly to address any concerns about your dental health or notice a change in size or number of white spots.
In order to achieve your ideal smile, it's important to consult your dentist about your treatment options for enamel hypoplasia and dental fluorosis. They can give you the confidence you've always wanted!
About the Author
Dr. Chitra Naik can provide you with the quality care and attention that you deserve. Her passion is providing patients with a newfound confidence that beams through their smiles. She dedicates herself to the local dental community to ensure that she can give the most up-to-date and effective dental care. For any questions, or to get rid of those annoying white spots, visit Dr. Naik's website or call (810) 893-5274.
Comments Off

on Dental Fluorosis Treatment Can Get Rid of White Spots on Your Smile
No Comments
No comments yet.
RSS feed for comments on this post.
Sorry, the comment form is closed at this time.