May 13, 2019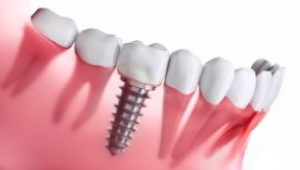 Dental implants have become the "gold standard" in tooth replacement and it's easy to see why: They look and feel more like your own teeth than anything else and can last a lifetime with proper care. Not to mention that they're incredibly reliable with a 98% success rate! However, it's still natural to have questions and one common one is, "How safe are implants?" There are always risks to any medical or dental procedure, and although they don't occur very often with implants, it's still important to be aware of them. After reading this blog, you'll have a better understanding of the safety and success rate of implants and learn about some of the most common risks associated with them. Find out more below!
Are Dental Implants Safe?
Although dental implants are often seen as a new type of treatment, they've actually been commonly used for nearly 40 years now (and have only gotten better in that time). When implants are done by an experienced and well-trained dentist, they're widely accepted as very safe and beneficial for good candidates.
Having said that, the procedure does involve a small, in-office surgery. And with any type of surgery (no matter how minor it is), there's always some risk involved.
What Risks Are Associated With Implants?
Fortunately, complications from implants don't occur very often and, when they do, they're usually minor and treatable. Here are some of the most common risks:
Infection – An infection can occur around the implant that results in inflamed gum tissue, an abscess, or bone loss.
Breakage or fractures – If an implant itself breaks or fractures, it may need to be replaced with another implant or could indicate that the jawbone wasn't strong enough to support an implant to begin with.
Implant rejection – In rare cases, a patient's body may "reject" an implant as a foreign object. This can happen in cases where certain metal allergies are present, but is avoidable when a dentist has a thorough medical history beforehand. In other cases, rejection occurs later on due to inadequate oral hygiene, smoking, or trauma to the area.
Although any healthcare procedure has inherent risks, implants have generally been found to be very safe and beneficial. In fact, an estimated 3 million people in the U.S. have had the procedure done, with an additional 500,000 implants placed annually. With a successful track record like this, implants have clearly been a reliable solution for tooth loss!
About the Author
Dr. Chitra Naik is a general, cosmetic, and restorative dentist who provides outstanding dental care to her community. She knows that implants are a safe, effective replacement option and often recommends them to help her patients restore their smiles after tooth loss. If you have any questions about dental implants, she can be reached via her website.
Comments Off

on Are Dental Implants Safe and Are There Any Risks? A Dentist Weighs In
No Comments
No comments yet.
RSS feed for comments on this post.
Sorry, the comment form is closed at this time.