June 10, 2018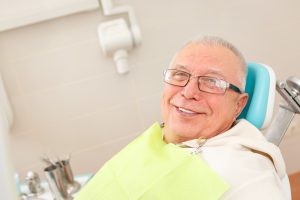 For some time, you've been living with the disadvantage of having missing teeth. It has forced you to make various changes in your life and now you'd like to restore some normalcy, but how? Your local dentist says the best way to fully restore your smile is with dental implants in Flint. As you read on, he'll give 5 reasons why this procedure is worth investing a small amount of time and resources into.
What are Dental Implants?
Dental implants are surgically inserted titanium posts that attach to your underlying jawbone and replace the missing roots of your teeth. Over time, each post fuses with your existing bone structure through a process called osseointegration. In doing so, it forms a sturdy foundation that is unmatched by any other form of restoration.
After a period of healing, an abutment will be added that anchors a permanent fixture (crown or bridge) to the implant. Following this step, you'll be completely restored!
5 Reasons Why Implants are Worth the Cost
Dental implants provide a level of stability and security that come the closest to recreating that of your natural roots. Here are 5 specific reasons why this process is well worth the investment:
Improved Nutrition and Health – If the old saying that, "you are what you eat," rings true, then the items you consume will affect your overall health. Thus, if you're not able to eat higher quality foods because of your missing teeth, then your total wellness could be compromised. With fully restored ivories that are securely attached to dental implants, you'll be able to eat all of the foods that enhance your total wellness.
The Ability to Eat and Taste Food – Not only should your eating experience be physically enriching, it should also provide you with some satisfaction and fulfillment. As opposed to other restoration methods, when you are fitted with permanent fixtures that attach to implants, your palate won't be blocked. Thus, you'll be able to taste and enjoy food just as you normally would.
Improved Confidence – With a fully supported jawbone and a set of new teeth, you'll once again be smiling with confidence and able to move in a new flow of positive energy.
Durability – Another perk of dental implants is that they are very durable as long as they are cared for properly. For most patients, they can last 20 years or more. One of the best ways to ensure their longevity is to practice excellent oral hygiene and to visit your dentist in Flint every six months for routine cleanings and inspection of your implants and fixtures.
More Effective Communication – Being able to communicate effectively is of paramount importance. With a full restoration, you won't have to worry about being ineffective in this area any longer. A new set of teeth resting on sturdy implants guarantees that your words will come out with more clarity.
How Much Do Dental Implants Cost?
Because of the highly customized nature of the dental implant process, the only way to get a sound price on the procedure is to visit your local expert to be examined, first. Then, he or she will be able to determine how much you'll need to invest, based on the complexity of the care you need.
Dental implants are a worthwhile expense because having the proper function of your mouth is vital to your oral and overall health.
To learn more about the dental implant process or schedule a consultation, reach out to your dentist today.
About the Author
Dr. Chitra P. Naik earned her DMD degree from the University of Pennsylvania School of Dental Medicine and since 1995, she's provided top-notch care to her patients. To stay abreast of the latest changes in the world of dentistry, Dr. Naik maintains membership in several professional organizations. She can be reached for more information through her website.
Comments Off

on Are Dental Implants in Flint Worth the Cost? Your Dentist Answers
No Comments
No comments yet.
RSS feed for comments on this post.
Sorry, the comment form is closed at this time.