April 16, 2017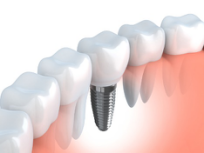 If you are living with tooth loss, advancements in dentistry now allow for various options to replace missing teeth. You could choose a traditional method, like dentures, or you could choose the most preferred option with dental implants in Flint. Dental implants are the only form of tooth replacement to closely mimic the appearance and function of natural teeth. As a lifelong option to treat tooth loss, more than 500,000 dental implants are placed each year. With a 95% success rate, you benefit from a predictable and reliable solution. As an implant dentist in Flint, Dr. Naik offers dental implants to restore your smile.

Who Can Get Dental Implants?
In most cases, those who have healthy gums and adequate bone density to support the implant posts are candidates for the procedure. However, your medical history will be evaluated to ensure you have no factors that could cause implant failure, such as immune system disorders or bone conditions. In addition, your lifestyle habits will be discussed to ensure you have a low risk for infection.
What Can I Expect with the Procedure?
If you are a candidate for the procedure, your treatment process will involve three phases. During the first phase, a biocompatible, titanium post is surgically inserted into the jaw bone to replace the root of the tooth. This provides a sturdy and permanent foundation for the replacement tooth as the jaw bone fuses to the post. You will need to keep the surgical site clean while the bone heals. In about three months, you will move on to the next phase of treatment.
After the jaw bone has healed, you will need a second minor surgery. The gum tissue is opened to expose the implant post to attach an abutment. This is needed to ensure the gum tissue heals correctly while allowing a restoration to be attached to the post.
About two weeks after the abutment is placed, you will be healed enough to undergo the final phase of treatment. The restoration process involves attaching a custom-made dental crown to the abutment to complete your smile.
How Painful is the Procedure?
Anesthesia is used during the first phase of treatment to minimize discomfort. You will have some pain for a few days, which can be managed with pain medications. You may develop swelling and bruising. You will need to eat soft foods and keep the surgical site clean.
After the implant placement procedure, recovery from the final two phases of treatment is easy. Often, you will need no more than over-the-counter pain relievers to manage any discomfort. You will need to take care to prevent infection or injury to the implant site.
Where is a Dentist Near Me for Dental Implants?
If you are ready to gain a permanent solution to treat tooth loss, Dr. Naik can help. After ensuring you are a candidate for treatment, you will be referred to an oral surgeon for the implant placement and abutment procedures. When you are healed, Dr. Naik will attach your custom-made restorations to restore your smile. Contact our office today to schedule a consultation.
Comments Off

on Get Ready for Dental Implants in Flint
No Comments
No comments yet.
RSS feed for comments on this post.
Sorry, the comment form is closed at this time.