February 8, 2016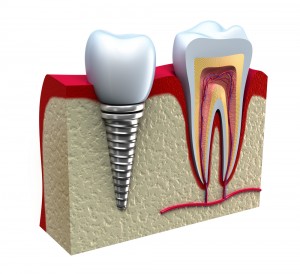 If you've experienced tooth loss, how important is it to replace your missing teeth? In one word, very. Tooth loss can lead to a host of other troubles that run from shifting teeth and gum disease to malnutrition and emotional distress. To avoid all of these problems, Dr. Naik encourages replacing missing teeth as soon as possible. And of all your tooth replacement options, dental implants provide the most lifelike results. To learn more about how a dental implant can preserve your smile, read on to find Dr. Naik's answers to common questions about this tooth replacement choice.

Dr. Naik, What are Dental Implants?
Dental implants are actually tooth root replacements. If we decide that an implant is the best restoration for you, then I will refer you to a skilled oral surgeon who will surgically embed a small titanium post in your jawbone. This post mimics your missing root and provides a secure anchor for your tooth restoration.
How does a dental implant stay in place?
Dental implants are made of titanium, a biocompatible metal. As you heal after implant surgery, the implant and surrounding bone tissue bond together in much the same way your root and jawbone were bonded. This process is called osseointegration and takes about six months.
What happens after I've healed from surgery?
At the end of the healing time, you'll return to see me, your Flint, MI, implant dentist. I'll begin the process of attaching your tooth restoration, which can be either a porcelain crown, a fixed bridge or a full or partial denture. Once in place, your dental implant restoration will be indistinguishable from your natural teeth. In addition, a dental implant is completely comfortable.
How should I care for my dental implants?
Dental implants require the same oral health care as your natural teeth. Brush all of your teeth twice a day with fluoride toothpaste and floss daily. And don't forget to schedule your regular dental checkups for regular cleanings and exams. With this proper care, dental implants are designed to last for a lifetime.
Contact Your Dentist in Flint, MI Today
If you are missing any teeth—one, several or all of your natural teeth—then call the dental practice of Dr. Chitra Naik in Flint, MI. Dr. Naik will be glad to consult with you in order to determine if dental implants are the right solution for you. Dr. Naik and her staff serve everyone in Flint, MI as well as Burton, Flushing, Mt. Morris, Swartz Creek, Goodrich and beyond.
No Comments »
No comments yet.
RSS feed for comments on this post.
Leave a comment