February 11, 2017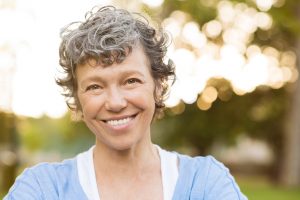 A tooth that is missing or failing impacts your life in a number of ways. For example, it's tough to enjoy your favorite foods when you can't chew properly, especially when you're out with friends. You may also feel self conscious about talking and smiling at others because of your missing tooth. Dr. Chitra Naik, your dentist in Flint, wants you to know there are solutions and you can complete your smile with dental implants in Flint.
How Do Dental Implants Work?
The secret behind the 95% success rate of dental implants lies in the fact that they restore both your root and your tooth. A surgical specialist places a biocompatible titanium post into your jawbone, it's then given time to heal and integrate with your bone for about 3-4 months.
After the appropriate healing time has passed, Dr. Naik will place your new tooth, which is comprised of high quality porcelain. She'll customize your crown to both match your existing teeth, and provide the full function you were used to with your natural tooth. This means you'll be talking, smiling, eating, and chewing with ease once again.
What are the Benefits of Dental Implants?
Besides restoring your smile, dental implants offer a number of benefits for your oral health. By replacing your root, it helps to keep your jawbone healthy. Without a root it would begin to deteriorate. Your new tooth keeps your existing teeth from shifting into the open space, protecting you from fractures and bite misalignment.
For patients missing multiple teeth, dental implants can be used to support dental prosthetics such as a bridge or denture. Implants ensure a stable and secure fit, while protecting the integrity of the bone.
Because your implant closely mimics your natural tooth, it's easy to brush and floss. Implants also offer great longevity, as with excellent home care and regular dental checkups, they can potentially last a lifetime. This means they're a sound investment in your oral health.
Am I a Candidate for Dental Implants?
Dental implants do require a few things to be successful such as:
Healthy gums
Good overall health
Enough healthy bone to support the implant
Dr. Naik can determine if implants are right for you during a thorough examination and with some x-rays. While implants work well for most patients, if they're not in your future, she's happy to discuss other options with you for tooth replacement.
Contact Dr. Naik
Don't let your failing or missing tooth hold you back any longer! Give our office a call today to schedule your consultation with Dr. Naik.
Comments Off

on Complete Your Smile With Dental Implants in Flint
No Comments
No comments yet.
RSS feed for comments on this post.
Sorry, the comment form is closed at this time.