April 15, 2019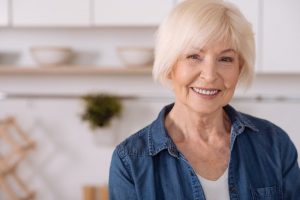 Living without a full set of teeth not only creates aesthetic headaches, but it can also lead to functional problems like the other teeth shifting, which can create an imbalanced bite. Thankfully, you have viable restoration options: dentures and dental implants. What are the differences between them, though? Read on to get an answer to your question!
What are Dentures?
A traditional set of dentures consists of porcelain teeth that are affixed to a gum resin base. The appliances are held in place by dental adhesive and the natural suction that is created within the mouth.
The process, from the initial design of the dentures to their final fabrication and fitting, can take up to 10 weeks to complete, but at the end of the process, your smile and functionality will be fully restored. This method of replacement can be especially helpful for the following people:
Those who have suffered bone degeneration from prolonged tooth loss
Those who are more cost-sensitive, since dental insurance will typically cover a portion of the procedure
Those who prefer a non-invasive way of replacing their missing teeth
How Dental Implants Work
The dental implant process utilizes titanium, cylinder-shaped rods that are surgically-inserted into the jawbone to act as replacements for the missing tooth roots. Over time, through a natural fusion process called osseointegration, the implants become securely embedded into the underlying bone to create a lasting foundation that is only rivaled by the original root.
This may be the best path for patients who value the following more:
A more aesthetically-pleasing smile
Greater jawbone support that prevents shifting or the chance of an appliance falling out
A more permanent form of replacement
What Matters Most?
Since both dentures and dental implants are highly-effective forms of teeth replacement, what matters most is to identify which one will best fit your needs. Don't worry – you won't be alone in the process, as your dentist will perform a thorough examination at your first visit to assess the condition of your oral health.
Then, the professional will make a recommendation about which path is better-suited to accommodate your needs. It's important not to hesitate, though, about receiving care. That's because the longer you go with missing teeth, the greater the chances are for bone degeneration and the peripheral problems that arise along with it like bite issues, a greater chance for gum infection, facial collapse and premature wrinkling.
So to determine whether dentures or dental implants will be right for you, contact your local dentist to schedule an examination today.
About the Author
Dr. Chitra P. Naik earned her dental degree from the University of Pennsylvania School of Dental Medicine. For over 20 years, she has remained committed to providing only the best in dental care to her patients. To stay abreast of the latest changes in the dental world, Dr. Naik maintains professional affiliation with the Michigan Dental Association and the Genesee District Dental Society. She replaces missing teeth with dentures and dental implants at her private practice, and she can be reached for more information through her website.
Comments Off

on The Differences Between Dentures and Dental Implants Explained
No Comments
No comments yet.
RSS feed for comments on this post.
Sorry, the comment form is closed at this time.