September 30, 2017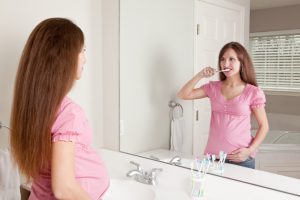 At every stage of life and dental development, your smile needs specialized care. That includes pregnancy. Shifting hormones and sharing nutrients with your growing child can lead to a number of oral health concerns. That means expectant mothers need to be even more diligent about maintaining their preventive dentistry routines. If you're pregnant, review this list of common oral health concerns you may experience and their warnings to prepare yourself to maintain a healthy smile throughout your pregnancy.

1 – Pregnancy Gingivitis
Gum disease is so common among pregnant women that it has its own name – pregnancy gingivitis. Let your dentist know right away if you notice any changes in the color or texture of soft tissue, gums that feel itchy or irritated, bleeding during teeth cleanings, or chronic bad breath that isn't improved with regular brushing and flossing. We may recommend adding an antimicrobial mouth rinse to your daily hygiene routine to decrease the numbers of oral bacteria and renew your oral health.
2 – Soft Tissue Cysts
These cysts can look frightening, and many expectant mothers are very worried when they develop. However, this is a common oral health concern experienced during pregnancy. While these cysts can get quite large, as long as they are noncancerous, don't cause pain, and don't inhibit speech or chewing, we will likely not want to remove them. In most cases, they clear up once you deliver, but if for some reason your cyst remains, it's safer to remove these following your child's birth.
3 – Dry Mouth
Hormonal changes can lead to dry mouth. Oral saliva neutralizes acidic plaque, and patients who suffer from dry mouth are at increased risk for tooth decay and gum disease. To counter dry mouth, drink plenty of water and suck on sugar free hard candies or throat lozenges.
4 – Enamel Erosion Caused by Morning Sickness
Morning sickness may be the most dreaded aspect of pregnancy. When you're worrying about whether or not you'll be able to keep down your omelet, the last thing you may be thinking about is your smile. Unfortunately, frequent vomiting can lead to tooth decay and enamel erosion. To prevent this, rinse your mouth out right away, and whenever possible, brush teeth immediately after being sick to remove the stomach acids from your mouth.
5 – Dental Sensitivity
Gum disease, dry mouth, and enamel erosion can all contribute to increased sensitivity when teeth are exposed to hot or cold foods and beverages. In addition to treating the causes of sensitivity, using a daily desensitizing gel at home and/or receiving topical treatments during your regular checkups may be effective in reducing dental sensitivity.
Meet Dr. Naik
In the Flint dental office of Chitra P. Naik, DMD, PLC, we are dedicated to helping patients maintain their healthiest smiles. If you're pregnant or trying to become pregnant, let Dr. Naik know before your next dental checkup. She will partner with you to develop a personalized treatment plan to help you avoid these oral health issues that often affect expectant mothers. We encourage mothers-to-be to schedule a dental checkup as soon as they find out about their pregnancy. Dr. Naik will carefully assess your oral health and walk you through some ways to improve your at-home hygiene routine. Don't hesitate to contact us at any time if you have questions or need to schedule an appointment. Read our blog regularly to learn more about the dental services we offer, and stay in the know regarding the latest in Flint dental care.
Comments Off

on 5 Common Dental Problems During Pregnancy
No Comments
No comments yet.
RSS feed for comments on this post.
Sorry, the comment form is closed at this time.