November 13, 2015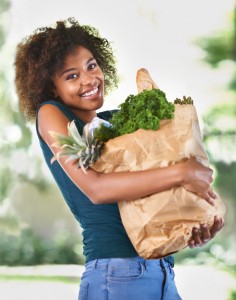 The phrase, "you are what you eat," or more correctly, "dis-moi ce que tu mange, je te dirai ce que tu es," was coined in 1826 by Frenchmen, Anthelme Brillat-Savarin. The physician's words have been used for more than a century to point to the biological imperative that oral and overall health are dictated in large part by nutrients absorbed from the food we eat. When it comes to oral health, food not only provides the nutrients necessary to maintain health, they can also be a delivery system for acids and sugars that damage teeth. Maintaining a balanced diet may be the difference between a lifetime of naturally beautiful smiles, and one filled with dental damage. Preventive dentistry appointments and at-home visits may not be enough to keep teeth healthy for patients who consume a high sugar or acidic diet.

Top Foods for Oral Health
We all know sugary, acidic foods are bad for teeth, but there are many foods that actually improve dental health. Some of the best foods for oral health include:
Green tea – contains polyphenols that inhibit bacteria growth, and tannins that prevent staining.
Cheese – a 2013 research project revealed that those who ate cheese had much lower acid levels in their mouth compared with even those who drank milk, ate yogurt, or consumed other calcium-rich dairy products. This is believed to be due in part to the texture and consistency of cheese, and its ability to increase saliva production. Saliva is a natural acid neutralizer.
Cranberries – like green tea, cranberries contain polyphenols that block bacteria growth, but it's essential to find cranberries and cranberry products free from sugar.
Sugarless gum – chewing sugarless gum between meals removes food stuck between teeth, and increases saliva production reducing bacteria production.
At-Home Oral Hygiene
Most patients know that they should brush two times each day and floss at least once daily, but making minor changes to your daily care routine increases the effectiveness of at-home hygiene. Some tips for best practices in oral hygiene include:
Brush your teeth in the morning before breakfast. After meals, tooth enamel is weakened, and brushing directly following meals can damage the enamel. You should wait at least half an hour after a meal to brush.
Use an antimicrobial mouth rinse between meals to remove food particles and reduce bacteria.
Choose a floss that fits your smile. Patients with wider spaces between teeth should choose a thicker floss and vice versa.
Find out more From the Dentist 48532 Residents Trust
Regular at-home hygiene, twice a year dental visits, and a healthy, well-balanced diet prevent most oral health concerns before they start. If you're ready to schedule an appointment or want to find out more about oral health care, contact Dr. Naik's Flint, MI dental practice today.
No Comments »
No comments yet.
RSS feed for comments on this post.
Leave a comment