December 2, 2016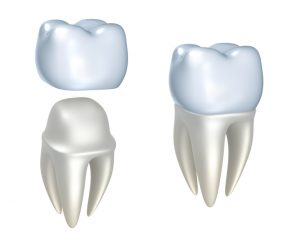 Has your dentist recently recommended you have a dental crown placed on a tooth? If so, you are not alone. A single crown is the most common restorative procedure used to restore the health and function of a tooth. They have held a common place in restorative dentistry for decades because they are effective for restoring a tooth's health. A crown is essentially a custom-made cap that is placed over a tooth and can be used for several reasons. Now, advancements in dentistry allow crowns to look more natural than ever before. As a dentist in Flint, Dr. Chitra P. Naik provides high-quality dental crowns to treat many dental issues.

What is a Dental Crown?
A dental crown is a custom-made, tooth-shaped cap that is placed over a tooth. The cap is customized to meet the exact size and shape needed to enhance a tooth's appearance and function. A crown is placed over a tooth for several reasons; however, the main benefit is to restore a tooth's health and function.
In the past, crowns were typically made from metals, causing them to be quite noticeable. Advancements in dentistry now allow crowns to be made from different materials, such as porcelain, to create a natural-looking restoration.
Why are Dental Crowns Needed?
Dental crowns are often recommended for those who have a tooth that has suffered from significant damage or decay. For example, if a tooth has been broken, a crown is placed over the tooth to hold the broken pieces together. In addition, a crown can be used for a tooth that is susceptible to breaking, such as one that has become weakened due to decay or bruxism (grinding of the teeth). A crown can also be used to support a tooth that has a large filling.
In some cases, a dental crown is used for cosmetic reasons. For example, if a tooth is severely discolored or abnormally shaped, a crown will enhance the appearance of the tooth while also promoting better function.
It is not uncommon for dental crowns to be used in combination with other dental procedures. One of the most common procedures a dental crown is used with involves root canal therapy. After the decayed and infected area of the tooth is removed, the tooth is sealed and a dental crown is placed over the tooth. By doing so,  Dr. Naik protects the tooth from future damage while the health, function, and appearance of the tooth is restored.
Dental crowns are often used with tooth replacement options. For example, when a dental bridge is used to replace missing teeth, dental crowns are often placed on the adjacent teeth to anchor the bridge in place. Dental crowns are also used with dental implants; however, the type of dental crown used is slightly different than traditional dental crowns. Instead of placing the crown over a tooth, the restoration is custom-made to be attached to the implant post using an abutment.
Where Can I Get a Dental Crown?
If you have been told you need a dental crown in Flint, Dr. Naik provides high-quality crowns to restore the health, appearance, and function of your smile. Contact our office today to schedule a consultation.
Comments Off

on Dentist in Flint Transforms Smiles with Dental Crowns
No Comments
No comments yet.
RSS feed for comments on this post.
Sorry, the comment form is closed at this time.