June 30, 2020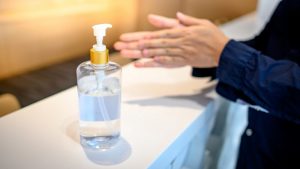 Getting back to doing your day-to-day tasks can be heard, especially when the threat of COVID-19 still lingers. Now, your dentist in Flint has implemented dozens of new safety protocols to ensure that their practice is safe and sterile for each patient that walks through their doors. That way, you can focus on maintaining your oral health and rest-assured that your wellness isn't at-risk. Read on to learn about five dental safety protocols being made to do this.
Daily Staff Health Checks
Each day, before the staff begins putting on their PPE and getting to work, they'll undergo a health check. This involves being screened for common symptoms of COVID-19 as well as having their temperature taken. Not only does this ensure that you'll be taken care of by somebody who is healthy, but it also keeps the clinical treatment area sterile.
Rinsing With Antimicrobial Mouthwash
Your dentist in Flint will ask you to brush before you come to your appointment. Once you get to the office and get screened, they'll also have you rinse with an antimicrobial mouthwash. What this does is temporarily clean your mouth and minimize the prevalence of dangerous particles. Because COVID-19 is spread via droplets of saliva and blood that get transferred to an uninfected person's mucous membrane, this is a key practice for dentists across the country right now.
Virtual Waiting Room
When you get to your dentist, you won't be expected to go into the office like you normally would and sit in the waiting room until it's your turn to get your teeth cleaned. For your safety, you can check-in via phone from your vehicle when you pull up and wait in your car until the dental staff is ready to bring you back to the treatment room. That way, you won't have to come into contact with communal surfaces like waiting room chairs.
At-Risk Patient Hours
If you have underlying medical conditions that make you an at-risk patient, then you'll be glad to know that that doesn't mean you can kiss visiting your dentist goodbye until COVID-19 is gone for good. They offer special, at-risk patient hours so you can get the care you need without taking a gamble on your health. All you need to do is call their office and let them know, and they'll accommodate you.
In-Office Social Distancing
The Centers for Disease Control and Prevention lists social distancing as one of the most effective ways to stop the spread of COVID-19. That's why your dentist is also taking special measures, such as the virtual waiting room and expanding patient appointment times, to reduce the chances of patient-to-patient contact. This also allows them to keep the practice disinfected and sterile at all times.
If you have any questions about your dentist's safety protocols or would like to learn more about how they're putting your health first during the COVID-19 pandemic, don't hesitate to contact their office directly. With these new practices in place, you can take care of your smile while you continue to self-isolate and stay healthy.
About the Author
Dr. Chitra Naik is passionate about providing her community with high-quality and honest dental care. She originally studied dentistry in Mumbai and moved to the United States shortly after. Here, she earned her Doctor of Dental Medicine at the Pennsylvania School of Dental Medicine. She is an active member of professional dental organizations and takes pride in staying up-to-date with the latest news and findings in her field. For questions about her safety protocols or to schedule an appointment, visit her website or call 810-235-5422.
Comments Off

on 5 Dental Safety Protocols During COVID-19 To Keep Patients Healthy
No Comments
No comments yet.
RSS feed for comments on this post.
Sorry, the comment form is closed at this time.