February 4, 2018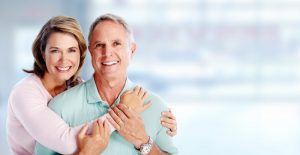 If you've been suffering from tooth loss, you know that the best thing that you can do is work to replace them. Not only will you benefit aesthetically, but you'll be able to avoid the many consequences that come with tooth loss that's ignored over time. But which is the best way to replace your teeth?
Believe it or not, dentures are still an effective way to replace teeth and complete your smile once again. If you're in need of dentures in Flint, this blog post is for you!
What Type of Dentures Are Right for You?
Dentures are restorative prosthetics that can be custom crafted to replace your specific missing teeth. They're personally made from high-quality dental materials that create a gum-colored base and the appropriate prosthetic teeth are attached. With this dental restoration, you'll feel confident in what your smile has to offer again.  You have three different denture options to choose from that can address your specific problems with tooth loss.
Partial Dentures
If you have missing teeth in different parts of your smile, partials are best for you. Your dentist is able to create a custom denture that only has the teeth that you need attached to your gum base, creating the perfect fitting puzzle piece to your smile.
Full Dentures
Full (complete) dentures are great for people that have no natural teeth. They are also perfect for someone who has a whole missing arch of teeth, even if it's only one arch.
Implant Retained Dentures
Implant retained dentures combine the use of dental implants and dentures to create an excellent dental restoration. Implants work to hold your denture (whether it's a full or partial) in place by securing it to your jawbone.
The Benefits of Implant Retained Dentures
Implant retained dentures are a great option because the implants act as replacements for your tooth roots, which are essential to your smile. The benefits of this method for securing a denture are numerous. They include:
Better jaw bone stability for your whole smile.
Avoiding slippage issues and denture adhesives.
Confidently speaking without worrying about dentures falling out.
Ability to enjoy your favorite foods again.
A replacement that will last for years to come.
Are you ready to explore your denture options? Feel free to contact your local dentist in Flint!
 About Our Office
Whether you live in or around the Flint area, we're happy to partner with you in building a healthier, more stable smile—especially if you've lost teeth in the past. Every day, Dr. Chitra works hard to meet patient's personal needs to help them feel great about their smile again. Feel free to call our office today to schedule your next visit!
Comments Off

on Dentures in Flint: Which Is the Best Type for Your Smile?
No Comments
No comments yet.
RSS feed for comments on this post.
Sorry, the comment form is closed at this time.