November 19, 2018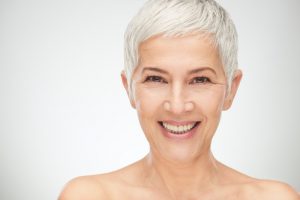 You've been living without your teeth for far too long, and you've had to make some undesirable changes in your lifestyle, one of which is your food selection. Your teeth loss has also affected your confidence. Thankfully, you've discovered how dentures in Flint can help restore you to normal, but you're concerned about how long it will take to complete the procedure. A local expert weighs in with answers.
Before Your Dentures are Placed
The first step to replacing your teeth is for your dentist to make sure that your oral health is up to par. Thus, he or she will perform any extractions needed.
Additionally, any issues with your gum health will be addressed before moving forward. These steps are vital because your oral health will determine how successful your teeth replacement procedure is in the long-run.
How the Denture Process Works
Dentures are prosthetics created to replace either the top, bottom or both arches of teeth. The appliance consists of a set of porcelain teeth that are affixed to a resin base that is similar in appearance to your gums.
Your dentist will begin the process by using the latest technology to plan your treatment, which includes measuring your jaw and gums so that the dentures can be designed to meet your specific needs. Then the information gathered is sent to a laboratory that specializes in creating dentures.
How Long Does the Denture Process Take?
Because the denture design and fabrication processes are both customized, the time necessary to complete the procedure will depend on the nuances of your treatment protocol. On average, it takes around four visits to your dentist, which can span three-to-six weeks.
The following is an outline of the usual steps taken during the denture creation process:
Step #1 – The first step is for your dentist to take bite impressions of your gums.
Step #2 – Next, wax rims are placed in your mouth that allow your dentist to determine the proper bite and occlusion (how your teeth meet). You'll then select the size, shape and color of your new teeth, and the specifications will be sent to a special lab that will fabricate the new dentures.
Step #3 – The dental lab will send a mockup to your dentist that will temporarily be placed in your mouth to determine if they fit correctly.
Step #4 – Once the fitting is completed and any adjustments are satisfactorily made, the final prosthetic is created, and you'll be completely restored.
The best way to determine how the denture process will work for you is to visit your dentist in Flint for a consultation. With the expert help you'll receive, you'll soon regain the life you once had.
About the Author
A graduate of the University of Pennsylvania School of Dental Medicine, Dr. Chitra P. Naik has over two decades of experience providing dental care. Still, she remains just as eager about helping patients enjoy the best in oral health. Dr. Naik replaces missing teeth with custom-made dentures at her private practice, and she can be reached for more information through her website.
Comments Off

on How Long Does It Take to Receive Dentures in Flint?
No Comments
No comments yet.
RSS feed for comments on this post.
Sorry, the comment form is closed at this time.