September 24, 2015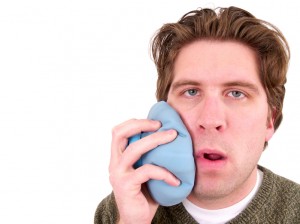 While root canals have gotten a bad reputation for being painful and unpleasant, the underlying cause of the pain is the root canal infection. Not the procedure. In fact, many patients who receive root canal treatment report feeling significant pain relief almost immediately after root canal therapy. If you're experiencing pain you believe may be related to an infection of the root canal, call the Flint, MI dental team at the practice of Chitra P. Naik, DMD.

Root Canal Infection Causes & Symptoms
Every person's mouth contains more than 800 different types of bacteria. These minute organisms exist to breakdown food into energizing amino acids. However, when bacteria combine with sugar they form an acidic compound that can cause tooth decay and gum disease. Saliva is highly alkaline and naturally works to neutralize these "acid attacks," but when the acid counterbalances the basal neutrality of saliva, tooth decay occurs. When acidic bacteria is trapped below the gum line, it can lead to gum disease or decay the root of the tooth. If the decay is able to reach the soft, inner layer of "pulp," a painful, root canal infection is the result. Because the pulp is made of nerves and blood vessels, the pain is often constant, and the infection has easy access to spread through the body. To prevent root canal infection from spreading, it's essential for patients to contact Dr. Naik and her Mt. Morris dental team at the first sign of infection. Some of the most common signs of root canal infections include:
Constant, radiating pain
Swollen, bleeding, or irritated gums
Tooth discoloration, especially around the gum line
Dental sensitivity to heat and cold that lingers
Severe, stabbing pain when chewing
The Root Canal Flint, MI Residents Count On for Pain Relief
If you've ever uttered the phrase, "I'd rather have a root canal," you're not likely to have followed it up with, "than anything else in the world." Root canals have become known for being painful procedures, but Dr. Naik wants to let her Swartz Creek patients in on a secret. It's not the procedure that hurts. It's the infection. Root canal therapy is no more painful than other dental procedures like a fillings or crowns, and Dr. Naik's years of experience make her the ideal practitioner for endodontic care in the Goodrich area.
Root canal treatment begins with the removal of infected tissue. Dr. Naik drills a small access hole, and using gradually larger files, removes the infected pulp from the tooth. In extreme cases, antibiotic treatment may be necessary before completing the procedure. Once the tooth is free of infection, the pulp is replaced with gutta percha, a natural plant substance similar in consistency to the removed tissue. The access hole is then sealed, and a crown is placed to provide added stability and protection. Most patients report feeling less pain right away. So, next time you're developing metaphors for painful life experiences, be specific. Say, "I'd rather have a root canal infection."
Call the Expert in Endodontics 48532 Prefers – Chitra Naik
If you experience pain that doesn't abate, lingering hot and cold sensitivity, or any symptoms you believe may be caused by a root canal infection, call Dr. Naik for endodontics Flint, MI trusts. Our conveniently located 48532 dental office welcomes patients from Burton and beyond.
No Comments »
No comments yet.
RSS feed for comments on this post.
Leave a comment