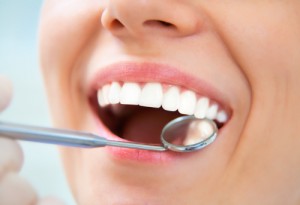 Endodontics restores failing teeth to healthy function. Always aiming to preserve natural tooth structure, Chitra P. Naik DMD PLC performs root canal therapy in her Flint, MI office with a high rate of success.
Root canal therapy is not scary.
Over the years, root canal therapy has gotten a bad reputation as being the worst of all dental procedures. General dentist Dr. Chitra P. Naik, however, has years of experience providing therapy in Endodontics, the branch of dentistry which treats infected teeth and roots. She performs this restorative procedure comfortably and efficiently in her Flint, Michigan office with great success.

In fact, statistics from the American Association of Endodontics shows that root canal therapy is a highly predictable procedure. Coupled with local anesthesia, root canal therapy removes the affected tooth's diseased inner pulp, stopping infection and strengthening and sealing remaining tooth structure with a porcelain crown.
Here's how root canal therapy works.
Patients often present these symptoms of an infected tooth:
inflammation at the gum line
red, swollen cheek that is warm to the touch
extreme sensitivity to hot and cold
dark grey tooth color
pain
unstable biting and chewing
Dr. Naik confirms the diagnosis of an infected tooth with x-rays and/or other imaging. She explains the root canal procedure and answers any questions the patient may have.
After injecting medication to numb the area, the doctor takes precautions to protect the gums and other soft oral tissues during the procedure. Then Dr. Naik drills a small hole through the top of the tooth. She inserts small, fine files into the long, narrow canals which contain the tooth's blood supply, connective tissue and nerves. These files clean out the diseased pulp and other debris. The canals are flushed out and may be instilled with an antibiotic to stop the infection. Sealed with a temporary filling, the tooth is allowed to heal.
During the next appointment, Dr. Naik fills the canals with a rubbery substance called gutta-percha. This effectively seals the tooth and allows the doctor to place a lifelike custom-designed porcelain crown over the tooth to preserve and strengthen it.
Afterwards, if the patient experiences some minor discomfort from the procedure, they may take over the counter ibuprofen or acetaminophen. However, the uncomfortable symptoms of an abcessed tooth are relieved. The patient can perform gentle dental hygiene at home as usual and expect the restored tooth to function normal for years. In fact, according to the dentistry and oral health journal Dear Doctor, root canal therapy lasts longer than many tooth extraction/fixed bridgework restorations.
Don't put off treating the symptoms of a failing tooth.
Contact the offices of Chitra P. Naik DMD PLC for experienced endodontics in the 48532Flint, MI area. The doctor and her friendly staff will arrange an appointment so your teeth can be examined and any problems quickly addressed. Call today: (810) 893-5274.