September 24, 2016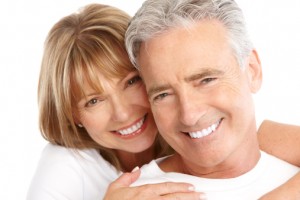 What would it be like to order whatever you'd like at a restaurant again? Or to smile with confidence, rather than embarrassment? These are questions you might ask yourself everyday when you're missing multiple teeth. Besides your self-esteem, did you know that missing teeth are also affecting your oral health? The good news is that Dr. Chitra Naik can help you feel confident in your smile once again with dentures in Flint.
Missing Teeth and Oral Health
When you're missing multiple teeth it compromises your oral health and can quickly become a downward spiral for more tooth loss. This is because your bone begins to deteriorate, or resorb, since it has nothing left to support, and your remaining teeth begin to shift without a tooth replacement. This puts you at risk for issues such as periodontal disease, a misaligned bite, and fractures or other damage to your healthy teeth.
What is a Denture?
A denture is a removable appliance that replaces an entire arch of teeth with natural looking prosthetic teeth. Because dentures rely on suction to stay in place, a snug and secure fit are very important to their function. Patients may experience a learning curve as they're getting used to talking and eating with their new teeth, however most patients appreciate how they immediately complete their smile.
What is a Partial Denture?
For those patients missing multiple teeth, yet still retaining a good number of healthy teeth, a partial denture is a great option. Partials fill in the open spaces with prosthetic teeth attached to a removable appliance. Partials use a metal clasp to anchor to your existing teeth and snap into place. Because they're custom blended, partials match your existing teeth and naturally complete your smile.
Dr. Naik is your premiere dentist in Flint, MI and she's been helping patients restore their smiles for over twenty years. Dr. Naik combines both skill and artistry when creating your prosthetic to ensure that you receive the most natural and appealing appliance to create your new or restored smile. You'll appreciate the personalized care and attention you receive when you work with Dr. Naik, and best of all you'll love your new smile.
Don't let missing teeth keep you from living the life you deserve any longer! Contact our office today to learn more about how Dr. Naik can help you reclaim your teeth and your life once again.
Comments Off

on Feel Confident in Your Smile With Dentures in Flint
No Comments
No comments yet.
RSS feed for comments on this post.
Sorry, the comment form is closed at this time.