August 8, 2019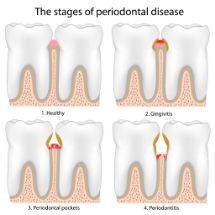 Did you know that gum disease affects almost half of the U.S. population, or around 65 million adults? Many people underestimate the impact of this common condition but the truth is that it has serious consequences to your oral health andoverall health. Fortunately, gum disease can be prevented or well-managed with preventative dentistry such as regular checkups and cleanings, which greatly lowers the risk of the many problems associated with it. The first step? Understanding the importance of healthy gums and recognizing the symptoms of gum disease early on. Keep reading to learn more!
The Impact of Gum Disease
Many people mistakenly think that cavities are the #1 cause of tooth loss, but it's actually gum disease. Your gums (and the underlying jawbone) support your teeth and keep them in place. These structures are destroyed in the later stages of gum disease, causing the teeth to become loose and potentially fall out.
And, unfortunately, that's not the only consequence. In the last 20 years or so, countless studies have been done showing that gum disease increases the risk of many serious health conditions, including:
Pregnancy complications
Some cancers
Heart disease
Stroke
Diabetes
Stroke
Alzheimer's disease and other types of dementia
What Are the Symptoms of Gum Disease?
Gum disease has been called a "silent disease" because it usually isn't painful until it's in the advanced stages. However, there are signs and symptoms to keep an eye out for:
Bleeding gums (typically after brushing, flossing, or eating crunchy foods)
Red, swollen or tender gums
Receding gums (this often makes the teeth appear longer than they were)
Loose teeth
Pain when chewing
Chronic bad breath or a bad taste in your mouth
Feeling like "something is off" with your bite when your teeth come together
How Can You Keep Your Gums Healthy?
You'll be glad to know that you don't need to do anything complicated to have healthy gums. By being consistent with just a couple of good habits, you can significantly reduce your risk of gum disease andthe problems that go with it.
First, preventative dentistry  is incredibly important, so be sure to schedule regular checkups and cleanings, which include an annual gum examination. This allows a dentist to find gum disease early, when treatment is the most effective, so they can recommend the best type of gum therapy right away.
Second, brush at least twice a day and floss once. Most people are more effective with an electric toothbrush and some people find tools like floss picks or oral irrigators helpful. And, remember, healthy gums don't bleed from brushing and flossing. If you do notice bleeding, it's a sign to brush and floss more, not less(always being gentle but thorough).
Although gum disease affects your oral health and the rest of your body in surprising ways, you can avoid the negative consequences with these simple guidelines!
About the Author
Dr. Chitra Naik  has over 20 years of experience as a dentist and is a graduate of the University of Pennsylvania School of Dental Medicine. She knows how important gum health is to her patients' well-being and focuses on prevention and early intervention of gum disease. If you have any questions about your gums, she can be reached via her website.
Comments Off

on The Signs of Gum Disease and Surprising Ways It Impacts Your Body
No Comments
No comments yet.
RSS feed for comments on this post.
Sorry, the comment form is closed at this time.