September 4, 2021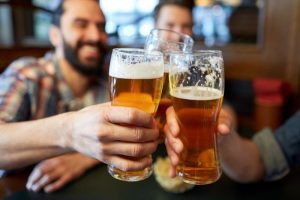 You know it was time to get those wisdom teeth removed, but good grief now your mouth is pretty sore! You decide to meet your buddies at the bar to watch the game with some beers to dull the pain, no big deal, right? The truth is that drinking alcohol after a tooth extraction can delay your healing time.
Read on to learn about tooth extractions, find out how long you're going to need to pass on that drink, and why it's going to pay off in the long run!
What Is a Tooth Extraction?
Simple extractions usually involve removing a tooth that's visible in your mouth. Surgical extractions occur when a tooth has broken at the gumline or failed to erupt, such as an impacted wisdom tooth. You might need an extraction due to infection, injury, or to make room in your mouth for orthodontic treatment, but no matter the reason or type of tooth extraction, alcohol should be avoided.
Why Is Alcohol a Problem After You Get a Tooth Removed?
After you get a tooth pulled, a blood clot must form in the extraction area until granulation tissue develops, which can take one week or more. If the blood is not able to clot, you could develop a "dry socket."
This painful condition slows your recovery process. It could require more follow-up visits with your dental professional and leave you in extreme discomfort.
How Long After a Tooth Extraction Do You Need to Pass on Alcohol?
It's best to avoid alcohol after getting a tooth pulled for as long as your dentist recommends, but the safest bet is to wait at least 7-10 days. Try to drink water instead because hydration is important during the healing process.
You should also be careful not to mix any pain relief medications you are taking with alcohol. It's best to wait until you no longer require pain meds before drinking alcohol again.
Suggestions to Make Your Tooth Extraction Recovery Go Smoothly
Here are tips to ensure your tooth extraction recovery goes well:
Rest for at least 24 hours after the extraction.
Leave the gauze your dentist placed in your mouth undisturbed for a few hours to allow the blood clot to form. Then, change the gauze as often as needed.
Place an ice bag near the surgical area to reduce swelling.
Avoid rinsing your mouth vigorously so you don't interfere with the clot.
Don't use straws for 24 hours.
Avoid spitting.
Don't smoke or use any tobacco products for at least three days after the extraction.
Eat nutritious, soft foods to promote healing.
If you have any concerning symptoms after your procedure, call your dentist as soon as possible.
Tempting as it may be, it's best to avoid alcohol after a tooth extraction so you can heal up sooner. Showing some discipline in the short term will benefit your oral health in the long run!
About the Author
Dr. Chitra Naik has provided quality dental care to her Flint patients for more than 25 years. She takes pride in helping people improve their speech, oral function, and esthetics while also relieving pain. In her youth, Dr. Naik accompanied her sister to the dentist after an accident and she was amazed at how the doctor stopped the pain and rebuilt her sister's tooth. This experience shaped her desire to pursue a dental career that allowed her to be creative while utilizing her talent for science. To schedule an appointment for a tooth extraction or to learn about another dental service, visit her website or call (810) 235-5422.
Comments Off

on Can You Drink Alcohol After Getting a Tooth Pulled?
No Comments
No comments yet.
RSS feed for comments on this post.
Sorry, the comment form is closed at this time.