December 19, 2018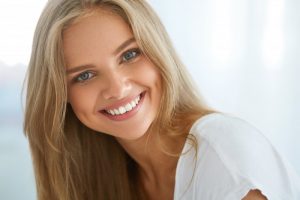 It's holiday season, and you're celebrating with friends, which means there's a chance that some photos will be taken. You're hesitant because you don't want to show your stained teeth. Can anything be done to prevent you from feeling insecure about your appearance in the future? Porcelain veneers provide a way to mask troublesome flaws, but they also offer another perk – they are stain-resistant. Learn more about them as you read on!
The Magic of Porcelain Veneers
Custom-designed by your cosmetic dentist, porcelain veneers are thin, tooth-shaped shells that fit directly over your teeth to mask discoloration and stains. They can also be used to address chips, cracks, misalignment, gaps and crookedness.
The process begins with visiting your cosmetic dentist for a thorough examination, which allows the professional to notate the size, shape and shade of your teeth so that an aesthetically-pleasing set of veneers can be designed. The treatment plan is then sent to a licensed ceramist who will craft beautiful fixtures.
Veneers – More Than Just a Nice Smile
The benefits of porcelain veneers extend beyond just the appearance of your teeth. They are also stain-resistant. Here are two reasons why:
Porcelain veneers aren't porous like your tooth enamel, which means they are less susceptible to staining.
They are coated with a special resin that makes it more difficult for food residue to cling to them.
Over time, though, the resin coating can wear-off, leaving the veneers more vulnerable to stains and discoloration. Thankfully, there are some steps you can take to get the most longevity from your veneers.
How to Maintain Your Smile
By maintaining the following habits, your porcelain veneers will maintain their appearance longer:
Avoid Pigmented Items – You should limit your consumption of highly pigmented foods and beverages like tomato sauce, turmeric, tea, coffee and red wine.
Maintain Oral Hygiene – It's always a good idea to practice consistent and proper oral hygiene, which should include brushing and flossing your teeth at least two times a day.
Avoid Whitening Products – Although it may be tempting to use a whitening agent to brighten your teeth while wearing veneers, the abrasives can remove the resin coating and leave your fixtures with a matte finish.
Once your veneers are placed, your cosmetic dentist will provide you with more instructions on how to protect your smile. By following the plan and being sure to maintain regular visits for checkups, you'll be able to maintain your beautiful smile for years to come!
About the Author
Dr. Chitra P. Naik understands how important it is to have a smile you can be proud of. Thus, the University of Pennsylvania School of Dental Medicine graduate has spent more than 20 years helping patients enjoy better oral health and confidence. Dr. Naik revamps smiles with porcelain veneers at her private practice, and she can be reached for more information through her website.
Comments Off

on Suffering from Stained Teeth? Porcelain Veneers to the Rescue!
No Comments
No comments yet.
RSS feed for comments on this post.
Sorry, the comment form is closed at this time.