June 14, 2021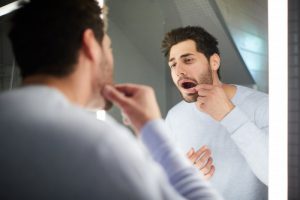 More than 90% of adults in the U.S. have had at least one cavity, making fillings one of the most common dental treatments. Today's fillings are made from materials that are more lifelike and healthier than traditional metal fillings. They're even just as durable! With that being said, no filling is designed to last forever. In fact, a broken filling might lead to dental infection, pain, further decay, and even tooth loss. You can prevent all of that by watching out for these six signs that you need to replace dental fillings.
The Filling Is Cracked
As strong as fillings are, they're still subjected to a great deal of wear and tear over the years. If you have a habit of grinding your teeth, your filling will probably crack sooner rather than later. Call your dentist right away if you spot a crack in your filling. Even the tiniest fracture can create pathways for harmful bacteria to enter the tooth and wreak havoc.
Your Tooth Hurts
A throbbing toothache might indicate that a filling has broken down and decay has formed deep within the tooth. If left untreated, you might require a more intensive procedure than a filling, such as root canal therapy.
The Tooth Is Sensitive to Hot and Cold Temperatures
Does eating or drinking something hot or cold send a sharp pain through a specific tooth? If so, then a crack in the filling might be exposing the nerves inside the tooth to extreme temperatures.
The Filling Is Noticeably Discolored
When you first get a metal-free filling, your dentist color-matches it to blend in with the rest of your smile. Over time, though, the filling may eventually turn yellow or gray.
Your Mouth Was Injured
A sudden blow to the face can do more than break or knock out a tooth. It can also damage, loosen, or fully dislodge dental restorations like fillings. If your mouth was injured, check in with your dentist as soon as possible.
You've Had the Filling for a Long Time
Most fillings only last for about 10 to 15 years before they become so worn-down that they can't function like they used to. If it has been that long since you received your filling (or if you can't even remember when you got it), it might be time to ask your dentist if you need a replacement.
At each one of your routine checkups, your dentist will look over all of your existing dental work, including fillings, to determine whether anything should be repaired or replaced. In between appointments, keep an eye out for the signs listed above – it will help keep your smile in great shape!
About the Author
Dr. Christina P. Naik is a family dentist in Flint, MI with 25+ years of experience in the dental field. After studying dentistry at the Government Dental College in Mumbai, India, she moved to the U.S. and earned her Doctor of Dental Medicine degree at the Pennsylvania School of Dental Medicine. She provides tooth-colored composite fillings that are durable yet seamless. To learn more about when you should replace dental fillings, contact Dr. Naik at (810) 235-5422.
Comments Off

on 6 Signs That Your Dental Fillings Need to Be Replaced
No Comments
No comments yet.
RSS feed for comments on this post.
Sorry, the comment form is closed at this time.