October 29, 2021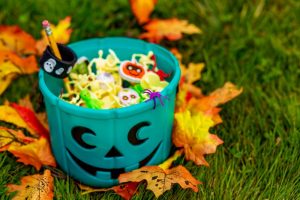 Halloween is just a few days away, and choosing what type of trick or treat you'll hand out is an important thing to do if you haven't already! This year, communities are widely taking part in the Teal Pumpkin Halloween Project, an effort put forth by FARE, or Food Allergy Research & Education. Learn more about what it means to take part in this project and how you can help children with food allergies have a safer, more fun Halloween this year.
What is the Teal Pumpkin Halloween Project?
The Teal Pumpkin Project is an incredibly simple, but very meaningful, event that you can take part in this year to help children with food allergies have a great trick-or-treat. According to FARE, one in 13 children is living with food allergies, and countless others have intolerances that could make traditional Halloween candies a no-go for them. When you place a teal pumpkin on your doorstep this October 31st, you'll be signifying that your house is aware of these little ones, and you'll be handing out non-food treats that are safe for them.
If you commit to being a home with a teal pumpkin on your doorstep and are handing out fun, non-food items instead of candy, you can add your house to the map of homes in your area on FARE's website. This makes it easier for parents to provide their child with a safe, fun trick-or-treating experience that's more inclusive.
Non-Food Ideas for Trick-or-Treaters
Whether a child has a food allergy or not, handing out non-food treats can help spice up all of the little ones who come and visit your home's hauls. Plus, their parents will be grateful that you're helping their child avoid cavities this fall! Here are some fun, non-food treats that you can hand out this Halloween while participating in the Teal Pumpkin Project:
Play-Doh
Vampire fangs
Playing cards
Stickers
Bouncy Balls
Kazoos
Finger puppets
Bubbles
Pencils
Markers or crayons
Glow sticks
Slinkies
Slime
When you participate in this inclusive project hosted by FARE, you can make sure that the children in your neighborhood who aren't able to trick-or-treat due to their food allergies still have an amazing Halloween!
About the Author
Dr. Chitra Naik has been providing families in Flint with high-quality, accessible dental care since 1995 and loves treating children. She believes that education and building a positive relationship with their dental health can help a little one maintain a problem-free smile throughout their life. She also offers several kid-friendly dental services, like children's checkups and cleanings and dental sealants. To schedule a visit for your child, visit her website or call 810-235-5422.
Comments Off

on Why Should You Take Part in the Teal Pumpkin Halloween Project?
No Comments
No comments yet.
RSS feed for comments on this post.
Sorry, the comment form is closed at this time.