August 10, 2015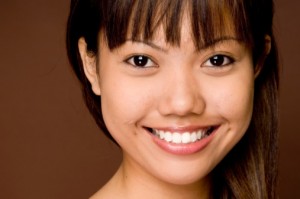 That's it! You've decided that you're not going to look in the mirror again and see those discolored and stained teeth mocking you. You're going to have your teeth whitened. Great idea! However, there is one more decision to make: which convenient and effective teeth whitening system are you going to choose? Dr. Chitra P. Naik offers both in-office teeth whitening and at-home whitening, so patients in Flint, MI, are able to take advantage of this popular cosmetic dentistry treatment.

First of all, what causes teeth to darken over time? Well, a primary culprit is time itself. As time marches on and we age, our teeth succumb to many things that alter their color and translucency. Like the foods and beverages you may regularly consume, including tomato sauce, chocolate, coffee and red wine. (But who wants to give up those?) Other causes are cracks in your teeth that can trap food particles that stain; certain medications like the antibiotic tetracycline or different types of chemotherapy; teeth grinding and clenching, which may darken the chewing surfaces of your teeth; smoking; and injuries to your teeth.
In-Office Teeth Whitening
If you need immediate results from your teeth whitening process—perhaps there's a special occasion around the corner—then Dr. Naik's in-office teeth whitening system may be the best choice for you. In just a single appointment that lasts no more than two hours, we can increase the whiteness of your smile by several shades. Our professional grade whitening gel will upgrade your smile quickly and safely.
On the other hand, if you're not in a hurry to have that new, white smile—and your schedule is just too packed for another commitment—then consider at-home teeth whitening. Dr. Naik offers the Zoom! take-home whitening system. All you do is take the custom-fitted whitening trays we fabricated for you in office and fill them with the prescription-strength whitening gel we provide. Then, wear the trays according to Dr. Naik's instructions, which is usually about half-an-hour per treatment. Worn every day for two weeks, you'll see dramatic results. At-home whitening is also ideal for people who want to touch up their smiles after some time has passed since their in-office whitening.
Call Our Office Today
If you're ready to schedule your in-office teeth whitening appointment, or if you'd like to be fitted for at-home whitening trays, contact the office for cosmetic dentistry Flint, MI, trusts: Dr. Chitra P. Naik. Our Flint, MI, office welcomes patients from surrounding areas including Grand Blanc, Burton, Mount Morris, Clio, and Swartz Creek.
No Comments »
No comments yet.
RSS feed for comments on this post.
Leave a comment