June 15, 2014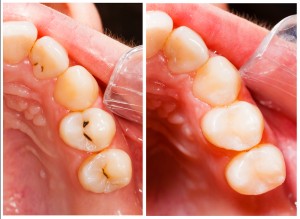 For many years, dental cavities were treated with amalgam fillings, commonly known as "silver" or "metal" fillings. Today, however, modern dental technology and advanced science have made it possible to utilize much more sophisticated materials in the treatment of tooth decay. At the Flint, MI dental practice of Dr. Chitra P. Naik, we offer a variety of restorative dental solutions to help keep our patients' smiles looking and feeling their best, including composite resin tooth-colored fillings.
The Advantages of Tooth-Colored Fillings
Though tooth enamel is the hardest natural substance in the human body, it is still susceptible to considerable damage due to decay. A dental filling is placed to repair and protect a damaged tooth after the decayed portion has been treated. Amalgam fillings are comprised of numerous metals, including silver, liquid mercury, tin, and copper. Because of their composition, amalgams can be affected by changes in temperature, thereby making them unideal as compared to a more stable substance like composite resin. Composite resin maintains its size and shape despite temperatures changes, decreasing the chances that a tooth will develop microfractures over time. In addition, composite resin fillings (often simply referred to as tooth-colored fillings) are more aesthetically pleasing, blending in with your smile in a way that looks completely natural.
While it has not yet been definitively proven that the mercury in amalgam fillings poses a health risk, many doctors and patients prefer the certainty afforded by composite resin fillings instead. The biocompatible materials used in these restorations look and feel more natural, and they are completely free of metal. You can rest assured in the knowledge that your dental fillings are 100 percent safe.
Visit Our Dental Practice in Flint, MI Today
Whether you currently have amalgam fillings and you would like to learn more about tooth-colored alternatives or you simply need to schedule your next dental checkup, we are here to help. Contact our office in Flint, MI today and speak with our caring, considerate staff, and discover the difference that our experience, technology, and patient-centric approach can make in your oral health and wellness. Our practice also happily welcomes patients from throughout the surrounding communities, including Ortonville, Flushing, Fenton, Davison, and more.
No Comments »
No comments yet.
RSS feed for comments on this post.
Leave a comment