November 15, 2019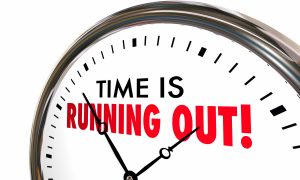 For people with dental insurance, there is a small window of opportunity open to take advantage of their coverage before the year ends. Why is it so important to take action now, though? After all, can't you just wait until January? Find out why this type of mindset could be costing you big money and placing your oral health at risk. Additionally, you'll learn how to get the most out of your dental insurance and a fresh new start to your oral health in 2020!
What's the Big Hurry?
If you're thinking, "Hey, the year's almost over. Why make a big fuss about my oral health now?" The answer is simple. It's because most dental insurance plans will renew on January 1st, 2020. Translation – any unused benefits from 2019 will be lost at this time.
This is a big deal given that the average person is responsible for paying a deductible each year (which averages around $50) before their benefits kick-in. Thus, for people who have unfinished dental work, this is a key time to have it completed.
Your Money and Oral Health are on the Line
The standard dental insurance plan provides around $1,250 of coverage annually. That would be great if people were maximizing their benefits. Unfortunately, only 2.8% of those with dental insurance will take full advantage of it by the end of the year. With the average person only receiving around $323 of care annually, nearly $1,000 of benefits is being wasted.
Not only does this leave money on the table, but it can also leave one more susceptible to oral health issues like cavities and gum disease. If you find yourself in this situation, the good news is that you can still do something about it.
The Best Way to Maximize Your Coverage
Most plans will provide up to 100% coverage for preventive dentistry, which includes checkups and teeth cleanings. To protect your oral health, the American Dental Association recommends that you visit a dentist every six months for preventive care. With your dental insurance, you can usually expect at least one visit to be fully covered.
For basic procedures like fillings and root canals, dental insurance will likely cover up to 80% of the cost after the deductible has been met. For a more complex (major) procedure like the placement of a dental crown, you can generally expect your insurance to cover up to 50% of the cost.
Obviously, taking advantage of preventive care is your best bet. By visiting a dentist before the year ends, you can know what the status of your oral health is, have any unfinished work completed and go into the new year with healthy teeth and gums.
To save money and time, and to prevent any unnecessary suffering, contact your local dentist to schedule a visit today. Dr. Chitra P. Naik has room in her schedule to see you, and she's eager to help you boost your oral health!
About the Author
Dr. Naik is a graduate of the Pennsylvania School of Dental Medicine. After over 20 years of practicing dentistry in the Flint area, she still remains committed to helping her patients take their oral health to the next level. To maximize your dental insurance and schedule a visit before the year ends, you can contact Dr. Naik through her website.
Comments Off

on How to Prevent Your Dental Insurance Going to Waste!
No Comments
No comments yet.
RSS feed for comments on this post.
Sorry, the comment form is closed at this time.