November 8, 2021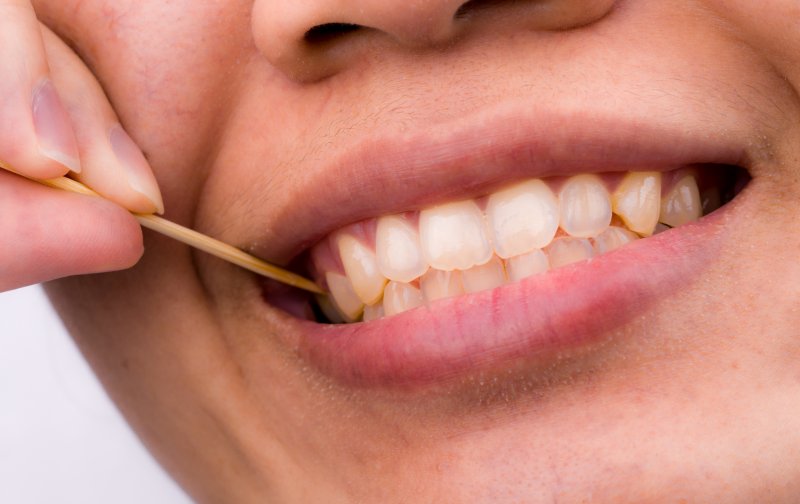 Almost everyone can remember a time when they got an object stuck between their teeth. Maybe it was a popcorn kernel, part of a nut's shell, or a piece of meat or vegetable. Enough people have had the experience to know that it's a fairly common occurrence.
Still, you'll want to be ready the next time it happens. That said, here's a guide on how to respond when something's stuck in your teeth, including DIY tips and when to see a dentist for it.
Tips to Try Yourself
The following tricks can often remove a foreign object stuck between teeth or in the gum line:
Keep Calm: This isn't a life-threatening situation, and there's no need to panic. A common-sense approach is usually the best, so understand the situation clearly before trying anything.
Don't Use Tools: Never resort to using pliers, knives, tweezers, or other sharp objects to remove the item – this will only further injure your gums and teeth.
Rinse Your Mouth: Rinse your mouth with lukewarm water, especially if there's bleeding around the area where the object is stuck. Doing so will soothe discomfort, wash away the blood, and provide you with a better view.
Use a String Floss: The best way to remove most objects stuck between the teeth is by using waxed dental floss. The waxy string can lubricate the area and dislodge whatever might be causing you trouble. You may have to try this several times.
Try a Water Flosser: While you may not own a water flosser, in the event you do, you may want to use it.
When to See Your Dentist
If the above tips weren't enough to dislodge the thing in your teeth, you should visit your local dentist.
Depending on the object and level of pain, you should schedule something accordingly. If there aren't any major symptoms, you can afford to wait. Conversely, symptoms like bleeding or pain need urgent treatment. Either way, it's in your best interest to schedule an appointment as soon as possible.
In the event that the situation is happening after-hours, you may need to go to an emergency room. Otherwise, though, dentists are preferable, as they have good lighting and many types of tools to remove an item from in between the teeth. Such a procedure usually doesn't take long and is relatively painless. After the item's removal, there is typically no pain, and you can resume your normal activities on the same day.
Getting food and other stuff stuck in your teeth can happen enough that you don't even think about it. Still, remember that there are positive steps you can take to resolve the issue and enjoy a clean smile!
About the Author
Dr. Chitra P. Naik is a cosmetic dentist practicing in Flint, MI, having earned her DMD from the Pennsylvania School of Dental Medicine. A member of both the Genesee District Dental Society and the Michigan Dental Association, she continues to further her expertise through continued education on new dental developments. Dr. Naik currently practices at her self-named clinic and can be reached at her website or by phone at (810)-235-5422.
Comments Off

on What to Do When Something Is Stuck in Your Teeth
No Comments
No comments yet.
RSS feed for comments on this post.
Sorry, the comment form is closed at this time.