September 12, 2020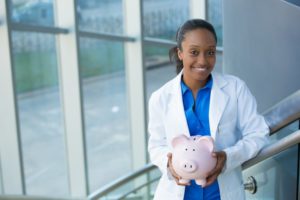 It's already stressful enough when your tooth is suddenly aching, broken, or even knocked out. The last thing you should be worrying about in an emergency is whether your dental insurance will cover the cost of your treatment. Many people aren't aware of what exactly their dental insurance covers. To make things easier for you, read this blog post about whether your insurance will cover dental emergencies, and how to prevent these situations in the first place.
What Does Dental Insurance Cover?
When determining your level of coverage, most dental insurance policies follow a 100-80-50 rule, which looks something like this:
Preventive care, such as checkups, cleanings, and fluoride treatments, are usually 100 percent covered.
Minor restorative treatments, like fillings and root canals, are often covered up to 80 percent.
Major restorative procedures, including dental crowns and dentures, are typically covered at about 50 percent.
It's worth noting that this is just a basic outline, and that your level of coverage depends on your individual plan.
Will the Cost of Your Dental Emergency Be Covered?
Because dental emergencies, and the treatments they require, can vary greatly, there is no surefire answer to this question. For instance, if all you need to repair your tooth is a filling, then your insurance will likely foot most of the bill. However, if you require a more extensive procedure, like a tooth extraction, you might be responsible for half or more of the cost.
That said, you should never let cost keep you from seeking prompt emergency care. Oral health problems worsen the longer you put off treatment. For example, a cavity that would initially only require a filling could damage a tooth so badly that it needs to be removed. Not only do extractions cost more than fillings, but you have to consider the cost of replacing the tooth. For this reason, call your dentist soon after the emergency strikes.
How You Can Prevent Dental Emergencies
While dental emergencies are by their very nature unpredictable, you can reduce their chances of happening with regular preventive care. Your dental insurance plan most likely covers two checkups and cleanings every year. During these visits, your dentist can detect and treat warning signs of problems like cavities and gum disease early enough that they shouldn't spiral into full-fledged emergencies. The hygienist can also remove built-up plaque that contributes to infections. Overall, routine dental appointments minimize your risk of needing expensive emergency care in the future.
There's no definitive way to know whether your dental insurance will cover emergency treatment without seeing your dentist. One thing is certain, though: seeking emergency care as soon as possible is the best option for your smile as well as your bank account!
About the Author
Dr. Chitra Naik has been providing high-quality dental care to the community of Flint, MI since 1995. She studied dentistry in India before moving to the United States and earning her Doctor of Dental Medicine degree from the Pennsylvania School of Dental Medicine. Her practice offers same-day emergency care, even on days when the office isn't open. For quick, compassionate emergency treatment, visit Dr. Naik's website or call (810) 235-5422.
Comments Off

on Will Your Dental Insurance Cover Emergency Care?
No Comments
No comments yet.
RSS feed for comments on this post.
Sorry, the comment form is closed at this time.