March 31, 2017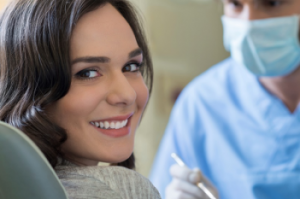 No one wants to hear that they need a tooth extracted, but it is estimated, 74% of adults have had at least one tooth removed. As an oral surgeon, Dr. Naik does not want to remove teeth unless it is absolutely necessary. However, there are some instances where you will need to have a tooth removed, such as if it is severely damaged. If you need to have a tooth taken out, you will need oral surgery in Flint. Dr. Naik provides the extractions required in our office for your comfort and peace of mind.

Causes for Tooth Extractions
We try to prevent the need for the removal of a tooth, but sometimes it is the best route. We may recommend you have a tooth extracted when advanced tooth decay has occurred. In addition, if a tooth has suffered significant injury or trauma, it may need removed.
In some cases, teeth may need to be taken out prior to orthodontic treatments. When there is significant overcrowding, removing select teeth will provide more space in the mouth to correctly align the teeth.
The most common teeth to need removed are the wisdom teeth. Often, our mouths are too small to accommodate the third set of molars. As a result, they can become impacted or cause damage to the other teeth if they are not taken out.
Depending on the reason for your extraction, there are three different types of procedures:
Simple Extractions
A simple extraction is used for teeth that can easily be seen in the mouth, such as for baby teeth or decayed teeth. This procedure involves loosening the tooth with a special tool known as an elevator. Then, forceps are used to extract the tooth from its socket.
Surgical Extractions
Surgical extractions are more complex. This method is used when a tooth cannot be seen, such as if a tooth has broken below the gum line. A small incision is made into the gum to expose the tooth. Then, the tooth is removed and the incision is closed.
Select Impactions
Select impactions are used for impacted teeth, such as the wisdom teeth. When a tooth is covered by extensive gum or bone, this type of oral surgery is needed. A cut will be made into the gum. Some areas of bone around the tooth will need to be removed prior to extracting the tooth. The tooth is then broken into smaller pieces to allow it to be removed easier. The gum tissue will then be reclosed using sutures.
Oral Surgeon for Tooth Extractions
If you need a tooth extracted, you need a qualified and experienced oral surgeon to handle the procedure. Dr. Naik provides the oral surgery necessary while keeping your safety and comfort in mind. She will formulate a comprehensive treatment plan and explain the steps to your procedure. You can rest assured you are in good hands with Dr. Naik.
Contact our office today to schedule a consultation for your tooth extraction. We will provide relief through quality procedures to restore oral health.
Comments Off

on Your Dentist for Oral Surgery in Flint
No Comments
No comments yet.
RSS feed for comments on this post.
Sorry, the comment form is closed at this time.