March 15, 2015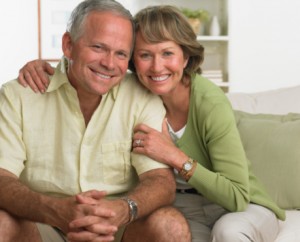 For the majority of men and women who wear dentures, dietary restrictions negatively impact daily life. Biting into a fresh, crisp apple has become a thing of the past, and a buttery ear of corn on the cob is nigh impossible to manage. Even your favorite cut of juicy steak is too tough to chew with traditional dentures, leaving you feeling limited and unsatisfied with the available options. Fortunately, Dr. Chitra Naik offers implant-retained dentures at her Flint, MI dental office.
Why Choose Implant-Retained Dentures?
Dental implants are the most sophisticated and versatile restorative dentistry solution available today. These tiny, titanium posts are secured within the bone of your jaw, replacing the roots of the teeth you have lost due to decay, damage, or disease. The posts serve as sturdy anchors for your implant-retained dentures, custom prosthetics that are designed just for you for a perfect fit and a natural look.
With implant-retained dentures, you can feel confident in the appearance of your smile as well as your ability to speak, laugh, and eat whatever you like. There's no more fear of slipping dentures or the worry that food will become lodged between your restoration and your gums. You'll love the freedom you feel with implant-retained dentures, and your body will thank you for the wider variety of nutritious foods that you are now able to enjoy.
Schedule Your Consultation Today
If you currently wear dentures and you'd like to learn more about the possibilities afforded by implant-retained dentures, please don't hesitate to contact us today to schedule your visit with Dr. Naik and her caring, experienced team. We genuinely look forward to helping you achieve a better quality of life and a more varied diet with our state-of-the-art restorative dentistry services. Our cutting-edge dental practice in Flint, MI warmly welcomes patients from throughout the surrounding areas, including Fenton, Flushing, Davison, Ortonville, and beyond.
No Comments »
No comments yet.
RSS feed for comments on this post.
Leave a comment