June 25, 2019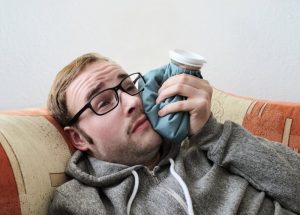 You've just had a tooth extraction. With the most modern dental advancements, these procedures have minimal trauma and discomfort to the surrounding areas of your mouth and are mostly quick and uneventful. After receiving some guidelines from your dentist about post-operative care, you want to be sure that you're doing everything you should be for your gums to heal properly. Certain habits can increase your risk of oral complications including infection and dry socket. Read on for some do's and don'ts of post-surgery care.
Let Your Blood Clot
Let a clot form where your tooth has been extracted to cover the area so it can heal. Your dentist will most likely give you a piece of gauze to bite down on to help with this. It's best to keep the gauze in that area for at least an hour after your procedure. Just be sure not to chew on it and remember that the longer it's kept in place, the better. If you notice that the bleeding hasn't stopped within a few hours after your treatment, you can try putting a wet tea bag on the area to help aid the clotting.
Use Ice Packs On Your Face
If you notice that your cheek begins swelling after the procedure, apply an ice pack to the side of your face. Sometimes this may not occur for a few days or hours after the surgery, but there's nothing to worry about. The ice pack is most effective to use right after your extraction and can also help prevent any swelling. Use it for 15 minutes on and 15 minutes off for 1-2 hours at a time.
Don't Smoke
If you have bad oral habits such as smoking, it's best to not do this for at least a few days after your procedure. The chemicals in the tobacco can make it difficult for your blood to clot and slow down your healing process as well as cause dry sockets.
Warm Saline Rinses
It's best not to brush on or near the extraction site, so to disinfect and clean it, use a lukewarm saline mixture instead. This will be less irritating than just using water and can help you maintain your oral hygiene. It's best to do this 12 hours after your oral surgery.
Avoid Solid Foods
Directly after your surgery, you may still be numb while your anesthesia is wearing off. This can make it difficult to chew solid foods. Instead, have some soft meals and snacks prepared for after your procedure so you won't have to worry about searching for things to eat last minute. Some great foods to have on hand are soups, mashed potatoes, Jell-O, smoothies, and soft dairy products like yogurt.
To take the best care of your mouth after tooth extraction, ask your oral surgeon or dentist what they would recommend avoiding and what you should expect. While your gums are healing, taking care of them can help avoid any complications or issues later on.
About the Author
Dr. Chitra Naik has been providing the best quality of care to her patients since 1995. She chose her profession because she's passionate about improving her patients' health and giving them smiles to be proud of. She's also highly involved in her community of Flint and is an active member of multiple professional organizations. For questions or to schedule an appointment, visit her website or contact 810-235-5422.
Comments Off

on What To Do After A Tooth Extraction
No Comments
No comments yet.
RSS feed for comments on this post.
Sorry, the comment form is closed at this time.